It probably won't come as a surprise to anyone reading this, but hackers and makers absolutely love LEGO. We think you'd be hard pressed to find a Hackaday reader, young or old, that hasn't spent some quality time with the little plastic bricks from Billund, Denmark. So it follows that there's a considerable community of individuals who leverage their better than average technical prowess to utilize LEGO in new and unique ways. But the activities and history of these LEGO hackers is not exactly common knowledge to those who aren't heavily vested in the hobby.
During the recent FOSSCON 2018 in Philadelphia, Daniel Pikora gave attendees a comprehensive look at the intersection of open source development and the world's most popular brand of construction toys. A software developer with a penchant for open source code by trade, he's also an avid member of what's known as the Adult Fan of LEGO (AFOL) community who's exhibited his creations at shows across the United States and Canada. Such a unique perspective, with a foot in both the FOSS and LEGO camps, makes Daniel an ideal tour guide for this particular microcosm of toys and tech.
In a whirlwind presentation that took attendees through 49 slides in about as many minutes, Daniel covered LEGO's beginnings in the 1930s to the rise of 3D printed custom bricks, and everything in between. Some of the engineering-centric product lines, such as Technic and Mindstorms, were already fairly well known to the types of folk who spent a beautiful Saturday in Philadelphia at an open source conference. But Daniel's deep-dive into the long history of open source LEGO projects brought to light the work of so many dedicated developers that everyone walked away with a newfound respect for the amount of work the AFOL community has put into elevating LEGO from a child's toy to a legitimate tool. Join me below for a look at the particulars of that deep dive.
Open Source Spirit
One of the key points Daniel made early on in the presentation is that, contrary to common misconceptions, LEGO products (I.E. the physical "bricks") are not open source. In fact, the LEGO company is very aggressive about protecting their intellectual property and any unauthorized use of their brand or designs is likely to be met with legal action. That said, LEGO appreciates the near ubiquity of their products in the hacker's toolkit, and they've occasionally made some concessions to their otherwise strict terms of use.
For example, in 2010 LEGO released a document describing the protocol for their "Power Functions RC" product line which opened with the following "license":
Please feel free to use any information from this document for personal, non-commercial use only,
provided you keep intact copyright, trademark and other proprietary rights of the The LEGO Group –
have fun.
While this simplistic license is unlikely to get the approval of the Free Software Foundation anytime soon, open source licenses with non-commercial clauses aren't unheard of. Even though LEGO doesn't often use official open source licenses for their products, few could argue that LEGO doesn't embrace the spirit of open source. The exchange of information and a culture of "remixing" is pervasive in not only the AFOL community but the LEGO company itself.
In 2016, after hearing that some customers had come up with an alternate way of assembling the gearbox in the Technic Porsche 911 GT3 RS kit, LEGO released a statement encouraging customers to experiment and find their own solutions. The statement closed with a line that encapsulates LEGO's feelings on open source, at least in spirit if not in letter:
LEGO Technic really is the ultimate open source design product and now that it is finally available, we look forward to seeing all the 'improved' models our fans create. After all, that is what LEGO building is all about.
The World of LDraw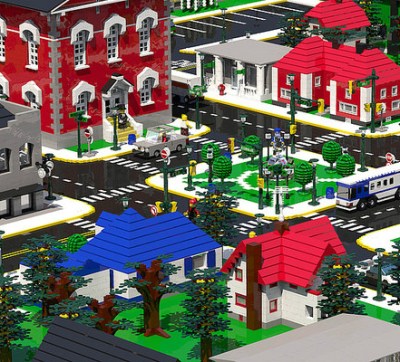 While the LEGO hardware might not be open, there's no shortage of open source software that has sprung up surrounding it. Primarily these tools are designed to help builders plan and document their projects using the open source LDraw file format. It would be fair to say that these tools are a cornerstone of the AFOL community, and have enabled collaborative efforts that might otherwise have been impossible.
The original LDraw, and its eponymous file format, was released for DOS in 1995 by James Jessiman as the first unofficial LEGO CAD package. He put considerable effort into making the file format modular and extendable, so others naturally adopted it in their own programs. Sadly, James passed away just a few years after the release of LDraw due to complications from the flu. As a fitting memorial, the community continues to use and develop the LDraw format that he pioneered.
Accordingly, there's a huge list of software packages that utilize the now Creative Commons licensed LDraw format. Even LEGO's official CAD program, Digital Designer, offers support for it. Daniel walked attendees through over a dozen LDraw-compatible tools, with a specific focus on those which are released under an open source license and for multiple platforms.
Playtime Goes High Tech
Daniel wrapped up the presentation with some details about the latest advancements in the AFOL community, including 3D printing custom or rare pieces and the latest generation of Linux-powered LEGO Mindstorms. These technologies are allowing for LEGO creations that go far beyond what was capable in the early days, and further cement LEGO as a practical system for rapidly developing hardware projects.
AFOL members point to a detail in 2008's Iron Man that shows Tony Stark using some open source Mindstorms code during the construction of the Mk I suit as validation that LEGO has transcended its humble beginnings as a replacement for wooden children's blocks in the late 1940's. While the reference is obviously tongue-in-cheek, it does go to show the pervasive influence LEGO has had on the generations of engineers who got their start rummaging through piles of multicolored bricks.