If someone asked me to make a list of things I didn't expect to ever hear again, the question "Do you want to go to a Toys "R" Us?" would be pretty near the top spot. After all of their stores (at least in the United States) closed at the end of June 2018, the House of Geoffrey seemed destined to join Radio Shack as being little more than a memory for those past a certain age. A relic from the days when people had to leave their house to purchase goods.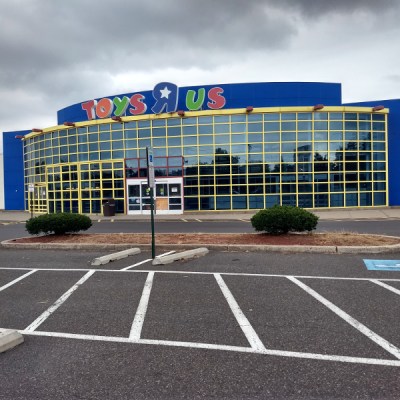 But much to my surprise, a friend of mine recently invited me to join him on a trip to the now defunct toy store. His wife's company purchased one of the buildings for its ideal location near a main highway, and before the scrappers came through to clean everything out, he thought I might like a chance to see what was left. Apparently his wife reported there was still "Computers and stuff" still in the building, and as I'm the member of our friend group who gets called in when tangles of wires and sufficiently blinking LEDs are involved, he thought I'd want to check it out. He wasn't wrong.
Readers may recall that Toys "R" Us, like Radio Shack before it, had a massive liquidation sale in the final months of operations. After the inventory was taken care of, there was an auction where the store's furnishings and equipment were up for grabs. I was told that this location was no different, and yet a good deal of material remained. In some cases there were no bidders, and in others, the people who won the auction never came back to pick the stuff up.
So on a rainy Sunday evening in September, armed with flashlight, camera, and curiosity, I entered a Toys "R" Us for last time in my life. I found not only a stark example of what the changing times have done to retail in general, but a very surprising look at what get's left behind when the money runs out and the employees simply give up.
Front End
Upon first entering the store, I was struck with how much of a wreck the place looked. At this point it had only been closed for around two months, but the lack of regular maintenance combined with the remnants of the store's chaotic final days were enough to give it a post-apocalyptic look. We were greeted with puddles of water and a collection of half assembled toys which someone abandoned a few feet from the front door.
Once we were able to get the main power back on and light up the store, the first surprise was that the point-of-sale systems appeared to all be intact. On closer inspection, we found that the computers themselves had been removed, but that the displays, scanners, receipt printers, pinpads, and even cash drawers were left in place. As this is the same kind of hardware that I've seen at nearly every big box retailer I've ever been to, I was surprised that nobody purchased any of it during the auction.
Past the registers was a kiosk with a large touch screen computer and printer, after a bit of research, it seems these were installed in 2011 so customers could print a paper copy of a child's "Wish List" from the Toys "R" Us website. There's perhaps a statement to be made here about the people who were still shopping at the store towards the end of it's run: the customers who would want a printed copy of something that most of us would simply look up on our phones are probably the sort of customer who avoided online shopping as well. Installation of these kiosks were likely seen as playing to the needs of their rapidly shrinking customer base.
The security office was placed, as you might expect, off to the side of the registers. This room was stripped bare and full of assorted trash, which makes sense as the security staff were likely let go before the floor associates. Unlikely anyone was too concerned about stopping shoplifters during a liquidation sale.
Interestingly enough, the security DVR and monitor were still in place, and when powered back up started cycling through a handful of cameras, nearly all of which seemed to be either broken or knocked ajar during the clean-out. It was certainly a very creepy and unsettling way to preface our journey deeper into the store.
Electronics Department
The electronics section looked like it was hit hardest by those looking for hidden treasures in the store's final days. Some locks were broken to get into drawers, and displays were ripped out of their mounts. Here we found some of the first potentially useful hardware: a number of screens that would play videos about the products they were advertising when you pressed the buttons on them. Apparently there weren't many hackers present for the final fire sale.
Vault Room
Don't get too excited, there was no Goonies-style treasure hidden in the vault, that's one thing you can be sure nobody forgot to collect on closing day. We did find an incredible number of keys and lock cores laid out, most likely from employees desperately trying to find some key that nobody realized was misplaced until the store was about to get shuttered. Here we also found a full box of documents dealing with the comings and goings of cash from the armored car service. In hindsight, the fact that this was left behind should have been a hint for what was yet to be revealed.
Phone Room
This area would be a paradise for phone phreaks. Personally I've never been terribly interested in telephony gear, but even I was shocked at how much stuff was still here. The Comdial manufactured DXP blade server which apparently ran the store's phone system on a Motorola 68000 CPU was still up and running, as was a "Messaging and Telephony Server" built by Indyme.
Also in this room was the hardware for the internal paging system, volume controls for the various speakers in the ceilings, as well as the Verizon I-211M-L Optical Network Terminal (ONT) that connected the building's internal systems to the FiOS network.
Server Room
Now this was more my style. While the servers themselves were gone, there was still plenty of infrastructure left, including some Cisco routers and gigabit switches. There was also a rack where four of their in-house smartphone type devices were charging and ready to go.
Taped to the rack was a memo left from Toys "R" Us explaining that the servers must remain on and connected to the Internet until the store's official "Vacate Day". It seems that they were wiped remotely, presumably so corporate could account for the destruction of credit card numbers or other personally identifying customer information that was housed on them. They were then either removed physically or perhaps sold during the auction. The memo also indicates a similar fate befell the point-of-sale systems.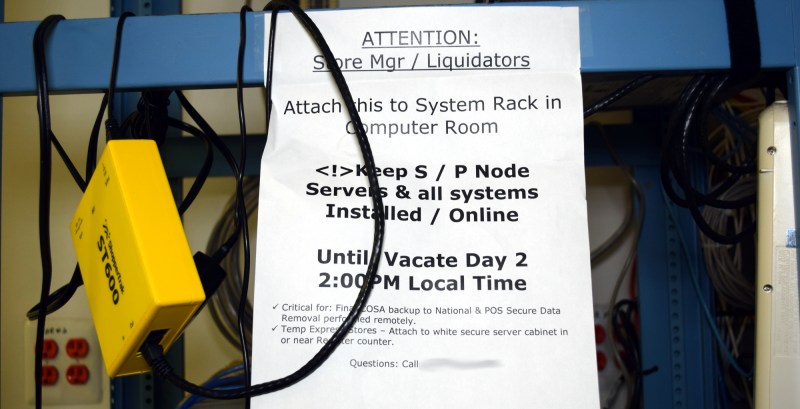 As an interesting note, the yellow box labeled "ST600" turns out to be a device that can determine not only how many people have entered the store but also how large they are. The idea being this would give Toys "R" Us insight on how many adults entered the store with children in tow.
Records Room
We don't know what this room actually was, but we decided pretty quickly what we'd refer to it as. While the tech we found throughout the store was interesting, what we found here was actually quite disturbing. This room contained several boxes full of personal information about employees at this particular Toys "R" Us location, down to their medical history and tax forms. As soon as we entered the room, we found a photocopy of one woman's drivers license and Social Security card laying on the table.
The amount of personal information left behind for anyone to find was really staggering, especially since these were the company's own employees. We saw the great lengths the company went to protect customer information, so to see how little regard they had for their own people was honestly infuriating.
At the time of this writing, there's still a question of what to do with all of this documentation. My suggestion was to just start a bonfire behind the store and burn it there before even more people run their eyes over it, but reader suggestions are welcome.
Workshop
We'll leave the horrifying discoveries of the Records Room behind and conclude our tour with something I thought was perhaps the most surprising find of the whole trip: the Workshop. This area was setup to do maintenance and repairs on products, presumably with a focus on bikes and the like. Considering how many large companies would simply chuck something in the compactor the moment it's deemed defective, it was sort of endearing to find they at least attempted to provide a repair service.
What Gets Left Behind
I'll admit this was the first time I ever got a close look at the aftermath of a major retailer going belly-up. Perhaps I'm just naive in being shocked that personal information and valuable infrastructure would be left behind when the doors were locked for the very last time. Perhaps it's standard operating procedure in these cases. But it doesn't make me feel any better about it.
I wonder how the situation will play out for each of the nearly 800 Toys "R" Us locations which have been shuttered. Was this particular location a fluke? What would have happened if somebody less scrupulous had purchased this building and got a hold of the documentation within? It's a question that I fear we'll soon know the answer to as more of these locations hit the open market.