If someone asked me to make a list of things I didn't expect to ever hear again, the question "Do you want to go to a Toys "R" Us?" would be pretty near the top spot. After all of their stores (at least in the United States) closed at the end of June 2018, the House of Geoffrey seemed destined to join Radio Shack as being little more than a memory for those past a certain age. A relic from the days when people had to leave their house to purchase goods.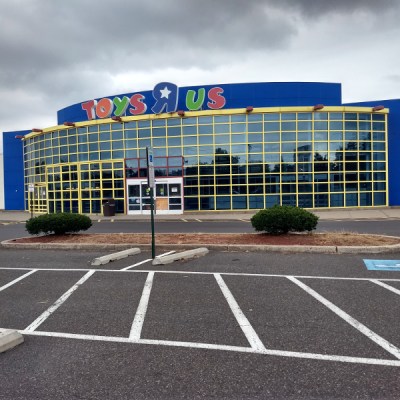 But much to my surprise, a friend of mine recently invited me to join him on a trip to the now defunct toy store. His wife's company purchased one of the buildings for its ideal location near a main highway, and before the scrappers came through to clean everything out, he thought I might like a chance to see what was left. Apparently his wife reported there was still "Computers and stuff" still in the building, and as I'm the member of our friend group who gets called in when tangles of wires and sufficiently blinking LEDs are involved, he thought I'd want to check it out. He wasn't wrong.
Readers may recall that Toys "R" Us, like Radio Shack before it, had a massive liquidation sale in the final months of operations. After the inventory was taken care of, there was an auction where the store's furnishings and equipment were up for grabs. I was told that this location was no different, and yet a good deal of material remained. In some cases there were no bidders, and in others, the people who won the auction never came back to pick the stuff up.
So on a rainy Sunday evening in September, armed with flashlight, camera, and curiosity, I entered a Toys "R" Us for last time in my life. I found not only a stark example of what the changing times have done to retail in general, but a very surprising look at what get's left behind when the money runs out and the employees simply give up.