This project of [Nathan]'s certainly has a playful straightforwardness about it. His Skype 'Kiss' Interface has a simple job: to try to create a more intuitive way to express affection within the limits of using Skype. It all came about from a long distance relationship for which the chat program was the main means of communicating. Seeking a more intuitive and personal means of expressing some basic affection, [Nathan] created a capacitive touch sensor that, when touched with the lips, sends the key combination for either a kissy face emoji or the red lips emoji, depending on the duration.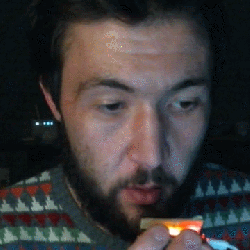 Capacitive touch sensing allows for triggering the sensor without actually physically touching one's lips to the electrodes, which [Nathan] did by putting a clear plastic layer over the PCB traces. His board uses an STM32 microcontroller with software handling the USB HID and STM's TSC (Touch Sensing Controller) functionality. As a result, the board has few components and a simple interface, which was in keeping with the goal of rejecting feature creep and focusing on a simple task.
Clearly the unit works; but how well does it actually fulfill its intended purpose? We don't know that yet, but we do know that [Nathan] seems to have everything he needs in order to find out. Either way, it's a fun project that definitely fits the spirit of the Human-Computer Interface Challenge of The Hackaday Prize.