Ever since Google's Deep Dream results were made public several years ago, there has been major interest in the application of AI and neural network technologies to artistic endeavors. [Helena Sarin] has been experimenting in just this field, exploring the possibilities of collaborating with the ghost in the machine.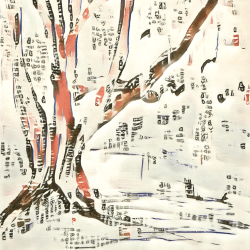 The work is centered around the use of Generative Adversarial Networks, or GANs. [Helena] describes using a GAN to create artworks as a sort of game. An apprentice attempts to create new works in the style of their established master, while a critic attempts to determine whether the artworks are created by the master or the apprentice. As the apprentice improves, the critic must become more discerning; as the critic becomes more discerning, the apprentice must improve further. It is through this mechanism that the model improves itself.
[Helena] has spent time experimenting with CycleGAN in the artistic realm after first using it in a work project, and has primarily trained it on her own original artworks to create new pieces with wild and exciting results. She shares several tips on how best to work with the technology, around the necessary computing and storage requirements, as well as ways to step out of the box to create more diverse outputs.
Neural networks are hot lately, with plenty of research going on in the field. There's plenty of fun projects, too – like this cartoonifying camera we featured recently.