Nearly a decade ago my friend [Dru] gave me an unforgettable tour late at night of Stokes Croft, the inner suburb of Bristol known at the time for its counterculture and artistic scene. It's a place dominated by building-sized graffiti and murals, and it has a particular association with the Bristolian street artist [Banksy]. If you've not seen a Banksy in the wild, the place to do it is by Bristol Saturday night street lighting to the sound of passing revelers and traffic on the A38.
[Banksy] is famous aside from his anonymity, for his pranks upon the art world. The (real) elephant in the room or the Dismalland theme park are his stock in trade, and you may have seen another prank of his in the news in the last day. One of his paintings, the 2006 Girl With A Balloon sold at auction for over a million quid, and as the gavel fell a hidden shredder in the picture frame sprang into life and partially shredded the canvas. The report suggests that a number of [Banksy]'s associates were present at the event, and that one of them was detained with a device that might have been a remote control trigger for the shredder. The quote from Sotheby's Europe head of Contemporary Art, [Alex Branczik] says it all: "We got Banksy'd".
[Banksy]'s cool and all that, but where's the hack? The artist briefly put up a video with a few details, but aside from showing us a row of craft knife blades and a tantalizing but fleeting glimpse of a few equipment enclosures, it's short on technical details. We can see what appears to be at least one motor, and those white boxes may be batteries, but that's it.
This hasn't stopped some fevered speculation as to how the feat was achieved. A home-made shredder would require a significant amount of readily available power, and since this one has seemingly lain undetected within the frame since 2006, that power source needs to have possessed both exceptional  energy density and retention. We can't imagine many consumer grade batteries in 2018 being able to retain a charge for twelve years, so how on earth did he do it? Our best guess is that a primary battery was involved, as anyone who has found a neglected Duracell in a box of electronics from their youth will tell you it's not unknown for decent quality alkaline cells to live well beyond their shelf lives, and other chemistries are specifically designed with that property in mind. Even so, for the cells to power a receiver circuit in standby for so long would certainly tax their capabilities, so it has also been suggested that a concealed switch could have been flipped by a [Banksy] accomplice during the viewing phase to activate the system. There are still so many unanswered questions that it's certainly piqued our technical curiosity. Sadly we don't know [Banksy] to ask him how he did it, but we welcome speculation both informed and otherwise in the comments.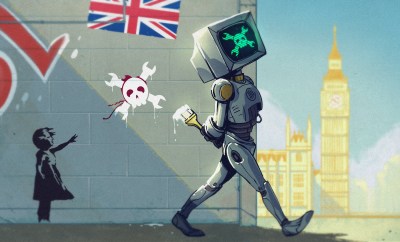 Meanwhile the piece itself lies half shredded and protruding from the base of the frame. On the face of it that's ruined the painting as an artwork, but of course this is a Banksy. Normal rules seem not to apply, so the notoriety it has received will no doubt mean that its shredded remains are an artwork in themselves, and possibly even one worth more.
Banksy owners worldwide are no doubt now paying a huge amount more attention to the artist's frames than previously, but Hackaday readers need not worry. Our London Unconference logo and stickers featured a [Joe Kim] homage to the Banksy in question, which we can guarantee does not incorporate an artist's shredder.