It's about convenience when it comes to single board computers. The trade-off of raw compute power for size means the bulk of them end up being ARM based, but there are a few exceptions like the x86 based Udoo Ultra. The embedded Intel 405 GPU on the Udoo Ultra is better than most in the category, but that won't begin to play much of anything outside of a browser window. Not satisfied with "standard" [Matteo] put together his build combining an Udoo x86 Ultra with a NVIDIA 1060 GPU. It seems ridiculous to have an expansion card almost three times longer than the entire computer its attached to, but since when did being ridiculous stop anyone in the pursuit of a few more polygons?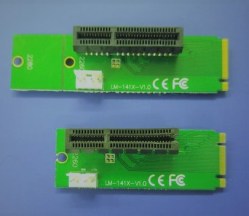 Since the Udoo Ultra doesn't feature a PCIe slot [Matteo] slotted in a M.2 to PCIe adapter board. There are two PCIe lines accessible by the Udoo Ultra's M.2 port although trimming the adapter board was required in order to fit. The PCIe female slot was cut open to allow the 1060 GPU to slide in. All of the throughput of the 1060 GPU wouldn't be utilized given the Udoo Ultra's limitations anyway.
Windows 10 was the OS chosen for the machine so that all those NVIDIA drivers could be installed, and there's also the added benefit of being able to sneak in a little Trackmania Turbo too. So to accompany the build, [Matteo] created a graphics comparison video to show the remarkable improvement over the embedded graphics chip. You can see the Time Spy benchmark results in the video below.