[Charles Ouweland] purchased some parts off Aliexpress and noticed that the Texas Instruments logo on some of his parts wasn't the Texas Instruments logo at all, it was just some kind of abstract shape that vaguely resembled the logo. Suspicious and a little curious, he decided to take a closer look at the MCP1702 3.3v LDO regulators he ordered as well. Testing revealed that they were counterfeits with poor performance.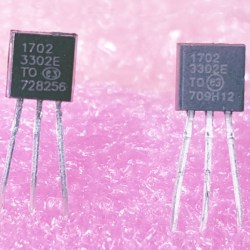 Looking at the packages, there were some superficial differences in the markings of the counterfeit MCP1702 versus genuine parts from Microchip, but nothing obviously out of place. To conclusively test the devices, [Charles] referred to Microchip's datasheet. It stated that the dropout voltage of the part should be measured by having the regulator supply the maximum rated 250 mA in short pulses to avoid any complications from the part heating up. After setting up an appropriate test circuit with a 555 timer to generate the pulses for low duty cycle activation, [Charles] discovered that the counterfeit parts did not meet Microchip specifications. While the suspect unit did output 3.3 V, the output oscillated badly after activation and the dropout voltage was 1.2 V, considerably higher than the typical dropout voltage of 525 mV for the part, and higher even than the maximum of 725 mV. His conclusion? The parts would be usable in the right conditions, but they were clearly fakes.
The usual recourse when one has received counterfeit parts is to dump them into the parts bin (or the trash) and perhaps strive to be less unlucky in the future, but [Charles] decided to submit a refund request and to his mild surprise, Aliexpress swiftly approved a refund for the substandard parts.
While a refund is appropriate, [Charles] seems to interpret the swift refund as a sort of admission of guilt on the part of the reseller. Is getting a refund for counterfeit parts a best-case outcome, evidence of wrongdoing, or simply an indication that low value refund requests get more easily approved? You be the judge of that, but if nothing else, [Charles] reminds us that fake parts may be useful for something perhaps unexpected: a refund.