Radio controlled models are great fun. Most of us have had a few RC cars as children and maybe dabbled with the occasional helicopter or drone. It's a rare breed of modeler, however, that gets to drive a radio-controlled bridge laying tank.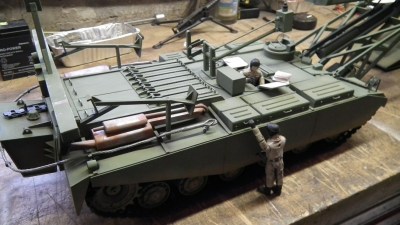 The model is a replica of the British Centurion Bridgelayer – a modified tank designed to allow mechanized units to readily cross rivers and similar obstacles in European battlefields. While the genuine article relied on hydraulics, the RC version takes a different tack. [hawkeye3guns] built custom linear actuators out of motors, gears, and brass to deploy the bridge.
The build shows other smart techniques of the enterprising modeler. Rather than start from scratch, the Centurion is built on a modified KV tank hull. After the modifications were complete, the tank received a lick of paint in the requisite British Army green. The final result is rather impressive.
It goes to show what can be achieved with some off-the-shelf parts and ingenuity. We've seen other impressive RC tanks before – like this French build with a homebrew targeting computer.