For those addicted to automotive thrills, there's always an underlying lust for more power. For those chasing a bigger number, forced induction is one of the most effective ways to achieve it. In addition to more grunt, you get a whole bunch of fun new noises, too.  For those with a naturally aspirated car, here's how you go about converting to forced induction.
Superchargers and Turbos
When we talk about forced induction, we're talking about forcing more air into the engine under pressure. With more air available, it's possible to fully combust more fuel, creating more power. The two most common ways of doing this are supercharging and turbocharging. We'll be using the common automotive vernacular here, so those eager to bicker about terminology from the early 20th century aircraft industry best do it in the comments.
Superchargers are essentially air compressors that run off a belt connected to the engine's crankshaft. As your engine spins faster, the supercharger spins faster, producing more air pressure, or boost pressure, thus giving the engine more air to work with.
Because the supercharger's output changes with engine speed, they're great for providing a power boost while maintaining a predictable, linear power delivery from the engine. Installation is also usually simple – involving an intake pipe, a few brackets and running a new belt and pulley.
Superchargers come with a drawback, however – they require a significant amount of power from the engine to run. It's obviously less power than they add, but it is a parasitic loss that must be accounted for. They also tend to have a powerband issue. As the RPM of the supercharger changes with engine speed, if it's set up to produce just enough boost up top, it'll be a little underwhelming at low RPM. There's always a tradeoff to be made.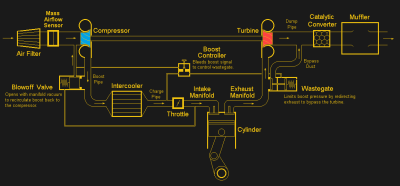 Turbochargers also compress air to feed into the engine, but instead of being run by a belt, the compressor wheel is spun by a turbine fed by the engine's exhaust gases. This is essentially using what was waste energy to add power to the engine, eliminating the parasitic loss inherent in supercharging.
Because they're not running in lockstep with engine RPM, turbos can create large boost throughout the rev range if set up properly, making it easier to provide low-end torque without sacrificing as much top-end power.
However, turbochargers suffer what's known as turbo lag. This is the delay between putting your foot on the accelerator, and the exhaust gases spinning up the turbine to a level that produces boost. Choosing the right size turbo for your application and using a modern design can help reduce this, but older designs or poor part choices can produce significant lag. 80s turbo cars were renowed for this, with very sudden power delivery when coming on boost. In street and road racing applications, this can be difficult to deal with.
There's also the case of complexity. A turbocharger install requires both intake and significant exhaust modifications, and is usually a more difficult install. You'll also have a wastegate that dumps excess exhaust gas when the desired boost level is reached, potentially with a boost control solenoid in-line to control when it opens. Additionally, you may want to install a blow-off valve to dump excess intake pressure when coming off the throttle to avoid compressor stalls which can cause damage.
Whether supercharger or turbo is better depends on your application. Depending on your car, you may find there are more readily available supercharger or turbocharger kits, and you may have your own ideas about which you prefer. There's no single right answer – fundamentally, it's your build. Weigh up the pros and cons, and look at them against what you wish to achieve with the car. If you're looking for an easy install and a moderate power bump, a supercharger may be the go. If you want huge power numbers and can deal with the hassles, turbos may be more your speed.
What's Intercooling?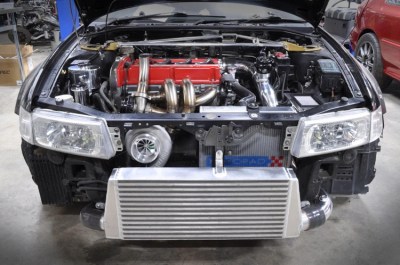 Both turbochargers and superchargers compress air to force more of it into the engine, heating the air. Hotter air is less dense, reducing power output, so ideally, we want to keep the air as cool as possible. Additionally, it increases the chance of the fuel charge detonating instead of burning smoothly, also known as engine knock. This can destroy an engine, so it's best avoided.
To reduce this problem, many setups involve running an intercooler between the charger and the engine. This can be an air-to-air radiator or an air-to-liquid setup. This helps remove heat from the intake air charge, improving power and reducing the likelihood of engine knock. An intercooler isn't always required, but without one, intake temperatures and the threat of detonation will limit your maximum power. Depending on your goals, this may or may not be a problem for your setup.
Getting An Installation Done

If you want to go with a supercharger, in addition to the compressor, you may need a bracket to hold it on the engine, a belt and pulley system to spin it up, and a pipe to connect the output of your supercharger to your intake manifold. Pulley size determines the gear ratio between the crankshaft and the supercharger; often several pulley sizes will be available with any kit to change the boost pressure. If a kit for your application isn't available, you can always fabricate your own parts.
If you've chosen to turbocharge instead, you'll first need a turbo. You'll need an exhaust manifold to duct gases to the turbine, and a dump pipe to then take the exhaust from the turbo out the back of the car. You'll need to hook the compressor's output up to the intake manifold with a pipe too.
If your turbo has an internal wastegate, you'll need to run a boost reference line from the intake to the wastegate actuator. If it has an external wastegate, you'll still need to do that, but you'll also need to install the wastegate into the exhaust. You may also choose to run a blow-off valve. This is a valve that releases pressure built up in the intake manifold when you suddenly come off the throttle. This pressure back-up can stall the compressor wheel in the turbo, causing damage, so a blow-off valve prevents this by venting either to atmosphere or back to the intake, pre-turbo. If you want that glorious "PSSHHHH" sound every time you come off the throttle, you'll want to vent to atmosphere.
Whether you've gone for a supercharger or turbocharger, you're now adding more air to the engine. Thus, you now need to add more fuel. For fuel-injected cars, the best way to handle this is by going with an aftermarket ECU. This allows fuel and ignition maps to be customized for your setup, allowing you to ensure the air-fuel ratio is correct, and that you're not running too much ignition timing and causing detonation. Generally, employing the services of an experienced tuner is a good idea, as they'll be able to set up your maps without blowing up your engine.
For carbureted setups, you'll want to get yourself a carby designed to work with a boost reference to ensure the right amount of fuel reaches the cylinders. Again, the services of an experienced tuner are invaluable here to make sure you've got things right.
Finally, you'll now want to only run on premium fuel. When your engine runs under boost, it's key to use fuel with a higher octane rating to avoid detonation. Otherwise, you'll have a boat anchor under the hood before you know it.
Potential Caveats
Switching your engine over to forced induction is a major change, and comes with many pitfalls. You may find that running boost into your engine leads to bending the connecting rods, destroying the engine. Your fuel pump may not be able to deliver enough fuel to keep up with the additional air, or your injectors may not flow enough. Alternatively, your engine may run just fine, but deliver so much additional torque that it burns your clutch out or destroys your gearbox on the first launch.
Some or all of these may happen to you, or yet another fun and terrible calamity may befall your car. The best way to avoid all of these is research. Almost every car out there has had someone poke around under the hood, and there's plenty of knowledge out there on the limits of common parts. Everyone knows that the 5.0 in the Fox Body Mustang likes to crack the block around 500 hp, just as everyone knows the B6 in the Mazda MX-5 tends to bend rods when putting out high torque below 4000 RPM. Your community will be a great guide here. If you're doing something unique and nobody knows, then good news – it's your job to find out and share your results with everybody!
Going for forced induction isn't easy. YouTubers will show you a $150 turbo and make it look like a cinch, but in reality, there's a huge amount you'll need to spend on supporting components. Mighty Car Mods did a great job busting this myth recently, revealing their eBay turbo install on a Toyota Yaris came in at an eye-watering $13,579 AUD when all was said and done. Oh, and it blew up within a few launches, anyway.
Despite the difficulties, there's plenty of gains to be had if you've got the money and the mettle. Do your research, and be prepared to triple your initial budget when things start to go wrong. But most of all, grab your wrenches and a few pals, and have at it!