Aluminium cans are all around us, and are one of readily recyclable. While you can turn them into more cans, [Burls Art] had other ideas. Instead, he turned roughly 1000 cans into a custom aluminium guitar.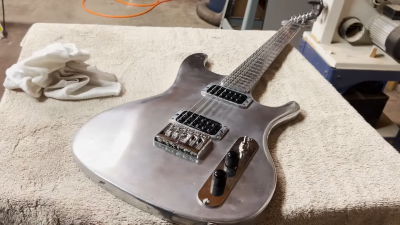 Both the body and neck of the electric guitar are made out of aluminium. It's an impressive effort, as manufacturing a usable neck requires care to end up with something actually playable when you're done with it.
Producing the guitar started with a big propane furnace to melt all the cans down so they could be cast into parts for the guitar. 38 lbs of cans went into the project, and were first dried out before being placed into the furnace for safety reasons. Aluminium cans aren't made of the best alloy for casting, but you can use them in a pinch. The cans were first melted down and formed into ingots to be later used for producing the neck and body.
[Burls Art] then built sand casting molds for his parts with a material called Petrobond. Wood plugs were used to form the sand into the desired shape. The neck casting came out remarkably well, and was finished with a grinder, hacksaw, and sandpaper to get it to the right shape and install the frets. The body proved more difficult, with its multiple cavities, but it came together after a second attempt at casting.
Fully kitted out with pickups and hardware, the finished product looks great, and weighs 12.3 pounds. It sounds remarkably like a regular electric guitar, too. It does pick up fingerprints easily, and does have some voids in the casting, but overall, it's a solid effort for an all-cast guitar.
We've seen some other great casting projects over the years before, too. Video after the break.