Over the last several months, we've been enjoying a front-row seat as [Jay Bowles] of Plasma Channel has been developing and perfecting his design for a high voltage multi-stage ionic thruster. With each installment, the unit has become smaller, lighter, and more powerful. Which is important, as the ultimate goal is to power an RC aircraft with them.
There's still plenty of work to be done before [Jay] will be able to take his creation skyward, but he's making all the right moves. As a step towards his goal, he recently teamed up with [RcTestFlight] to attach a pair of his thrusters — which have again been further tweaked and refined since we last saw them — to a custom catamaran hull. The result is a futuristic craft that skims across the water with no moving parts and no noise…if you don't count the occasional stray arc from the 40,000 volts screaming through its experimental thrusters, anyway.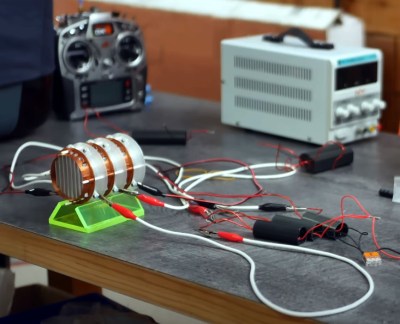 We were particularly impressed to see the boat doesn't use rudders, and instead relies on differential thrust between the two ion engines to turn. It was the more difficult approach to be sure, but as [Jay] explained it to us, the goal from the very start was to completely eliminate any moving components from the powertrain.
Part of that goal was undeniably for the wow factor, but it's also key to achieving the silent operation that serves as the justification for strapping an ionic propulsion system to an otherwise standard watercraft. With no dangling bits making noise in the water, this boat could in theory be used in applications where a traditional craft might disturb wildlife. Though we suspect it might do a hell of a number on any bugs that might be flying around nearby.
It's been fascinating to see [Jay] improve his thrusters with each new iteration, and judging by the incredible views each video has amassed, we're not the only ones on the edge of our seats. But is it any surprise? While ionic propulsion is an established technology for spaceflight, it's relatively unexplored as far as practical terrestrial vehicles go. With each update, it really feels like [Jay] is making progress towards something big, and we can't wait to see what comes next.