Illusions are perceptual experiences that do not match physical reality, and the 2023 Illusion of the Year contest produced a variety of nifty ones that are worth checking out. A video for each is embedded below the break, but we'll briefly explain each as well.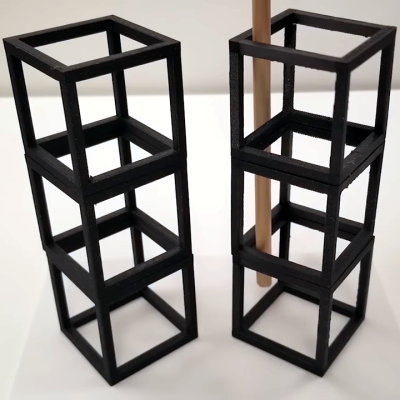 Some of the visual illusions play with perspective. One such example happens to be the contest winner: Platform 9 3/4 has a LEGO car appear to drive directly through a wall. It happens so quickly it's difficult to say what happened at all!
Another good one is the Tower of Cubes, which appears as two stacks of normal-looking hollow cubes, but some of the cubes are in fact truly bizarre shapes when seen from the side. This is a bit reminiscent of the ambiguous cylinder illusion by Japanese mathematician and artist [Kokichi Sugihara].
Cornelia is representative of the hollow face illusion, in which a concave face is perceived as a normal convex one. (Interestingly this illusion is used to help diagnose schizophrenia, as sufferers overwhelmingly fail to perceive the illusion.)
The Accelerando Illusion is similar to (but differs from) an auditory effect known as the Risset Rhythm by composer Jean-Claude Risset. It exploits ambiguities in sound to create a dense musical arrangement that sounds as though it is constantly increasing in tempo.
The Buddha's Ear Illusion creates the illusion of feeling as though one's earlobe is being stretched out to an absurd length, and brings to mind the broader concept of body transfer illusion.
While it didn't appear into the contest, we just can't resist bringing up the Thermal Grill Illusion, in which one perceives a painful burning sensation from touching a set of alternating hot and cold elements. Even though the temperatures of the individual elements are actually quite mild, the temperature differential plays strange tricks on perception.
A video of each of the contest's entries is embedded below, and they all explain exactly what's going on for each one, so take a few minutes and give them a watch. Do you have a favorite illusion of your own? Share it in the comments!
[via IFLScience]