One of the keys to making money with manufacturing is to find something that you can make a lot of. Most small manufacturers have one or two "bread and butter" items that can be cranked out in quantity, which of course has a quality all its own. The problem with that approach, though, is that it runs the risk of being boring. And what better way to avoid that than by automating your high-volume job, with something like this automated  CNC work cell?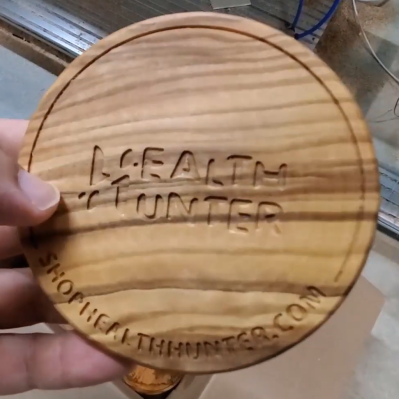 [Maher Lagha] doesn't offer too much in the way of build details, but the video below pretty much tells the tale. The high-volume items in this case are customized wooden coasters, the kind a restaurant would buy for their bar or a business would give away as swag. The small 3-axis CNC router at the center of the work cell is the perfect choice for making these — one at a time. With no desire to be tied to the machine all day to load raw stock and unload completed coasters, [Maher] came up with automated towers that hold stacks of pallets. Each pallet, which acts as a fixture for the workpiece through multiple operations, moves from the input stack into the router's work envelope and to the output stack using a combination of servos and pneumatics. The entire work cell is about a meter on a side and contains everything needed for all the operations, including air for the pneumatics and dust extraction.
Each coaster requires two tools to complete — one for surfacing and one for lettering — and [Maher] has two ways to tackle that. The first is to allow a stack of coasters to go through the first operation, change tools, and switch the roughed-in stock back to the input stack for the second round of machining. The other is just to build another work cell dedicated to lettering, which seems to be in progress. In fact, it looks as if there's a third work cell in the works in [Maher]'s shop. The coaster business must be pretty good.