When I first got interested in computers, it was all but impossible for an individual to own a computer outright. Even a "small" machine cost a fortune not to mention requiring specialized power, cooling, and maintenance. Then there started to be some rumblings of home computers (like the Mark 8 we recently saw a replica of) and the Altair 8800 burst on the scene. By today's standards, these are hardly computers. Even an 8-bit Arduino can outperform these old machines.
As much disparity as there is between an Altair 8800 and a modern personal computer, looking even further back is fascinating. The differences between the original computers from the 1940s and anything even remotely "modern" like an Altair or a PC are astounding. If you are interested in that kind of history, you should read a paper entitled "Electronic Computing Circuits of the ENIAC" by [Arthur W. Burks].
These mid-century designers used tubes and were blazing new ground. Part of what makes the ENIAC so different is that it had a different design principle than a modern computer. It was less a general purpose stored-program computer and more of a collection of logic circuits that could be configured to solve problems — sort of a giant vacuum tube FPGA, if you will. It used some internal representations that proved to be suboptimal which also makes it seem strange. The EDSAC — a later device — was closer to what we think of as a computer. Yet the ENIAC was a major step in the direction of a practical digital computer.
Cost and Size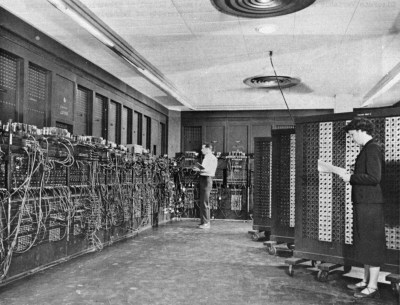 The size of ENIAC is hard to imagine. The device had about 18,000 tubes, 7,000 diodes, 70,000 resistors, 10,000 capacitors, and 6,000 switches. There were 5 million hand-soldered joints! ([Thomas Haigh] tells us that while this is widely reported, the real number was about 500,000.) Physically, it stood 10 feet tall, 3 feet deep, and 100 feet long. The tube filaments alone required 80 kW of power. Even the cooling system consumed 20 kW. In total, it took 150 kW to run the beast.
The cost of the machine was about $487,000. Almost a half-million dollars in 1946 is plenty. But that's nearly seven million dollars in today's money. What was worth that kind of expenditure? The military built firing tables for shell trajectories. From the [Burks] paper:
"A skilled computer with a desk machine can compute a 60-second trajectory in about twenty hours…"
Keep in mind that in 1946, a computer was a person. [Burks] goes on to say that a differential analyzer can do the same job in 15 minutes. ENIAC, on the other hand, could do it in 30 seconds and with a greater precision than the differential analyzer.