Recently I had the opportunity to do a teardown of a battery-backed LED bulb, and found some interesting details on how the device operated. Essentially, the bulb contained a low voltage DC uninterruptible power supply that would automatically switch between AC power and internal battery as needed. The implications of this seemed pretty exciting. For around $12 at big box retailers, this little bulb could be a cheap and convenient solution for providing fault tolerant power to microcontrollers and other low-power devices.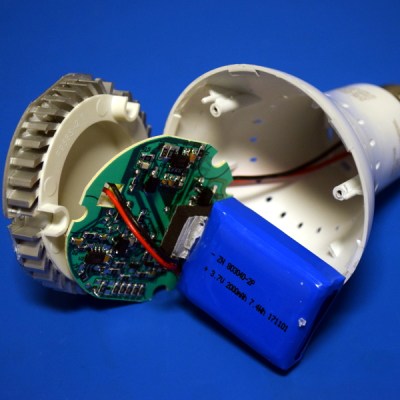 The teardown was a runaway success, with quite a bit of discussion of the UPS idea specifically. Some people hated it, others loved it. But as we've come to expect from Hackaday readers, the comments from both sides of the aisle contained keen observations and invaluable real-world experience. From the safety of the device to the accuracy of the manufacturer's claims, it seems like every element of the product was addressed.
I had ended the teardown with a promise that I'd continue experimenting with the tiny salvaged UPS, but even if I hadn't, with so much feedback it seemed revisiting the subject was all but a necessity. It this little UPS really viable? Is it too dangerous to safely implement in your project? Will the thing just blow up?
So with your comments as a guide, and free of the somewhat restrictive teardown format, I set out to conduct a more thorough investigation of this little circuit that caused so much debate last month. It's not all good news, but it's not in the trash either. Not yet, anyway.
Continue reading "Investigating The Tiny Salvaged UPS From A Lightbulb" →