When on the road, we love to stop by a local hackerspace and connect with the hacker community. On Friday, TOG Hackerspace in Dublin, Ireland opened their doors to host a Bring-a-Hack with Hackaday and Tindie.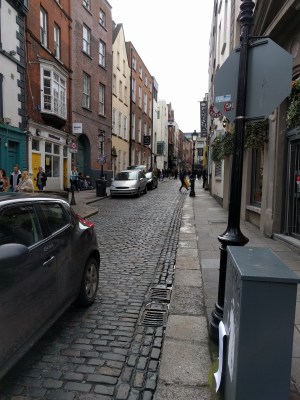 The city center of Dublin is anything but a grid. The cobblestone roads meander every which way and are a puzzle of one-way and surprise construction, none of which seemed to faze Google's navigation algorithms. I was happy to be operating the smartphone instead of the rental vehicle. A big thanks goes to Jenny List for taking on the stress of driving on our refreshments run without coming in contact with people or cars.
You're likely wondering why the street layout of the city deserves such attention. I'm used to centrally-located Hackerspaces being tight on space, and indeed the members of TOG cautioned us that 50 people would feel cramped. Much the opposite, the pubs, restaurants, hotels, and performing arts centers are not small, nor winding, nor made of cobblestones. Dublin is a fantastic place to party, with plenty of space for us hardware geeks to congregate. TOG itself, which about 20 minutes walk from the central Temple Bar area (where this image was taken), even has a small parking lot which made our beer drop off and pizza delivery a breeze.
A Tour of TOG Hackerspace
TOG is a Gaelic word which loosely translates as "to make". Declan met us for the beer drop and gave us a tour when we returned for the evening event. The building is divided into several different spaces, starting with an entry area that serves as a meeting space, gaming room, and showcase of projects.
Where you might see prayer flags strung up on an apartment building, we see floppy disks (both the hard and soft variety) strung around the meeting area. Declan has a shamrock of K'nex parts wired up with a microphone controlled RGB LED strip — it's like a test your strength game to see who can shout the coolest colors.
I also really enjoyed the fabric anatomy display that has snaps on each organ and only lights up the labels if you complete the circuits in the correct locations.
These are just the tip of the iceberg. There's much more after the break so join me for the rest of the tour, and some of the notable hacks that showed up on Friday evening.