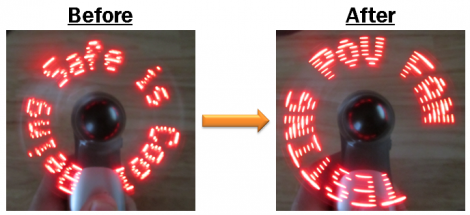 [Zach's] company is all about the safety and to reinforce those ideals they handed out POV display fans to each employee. "Being Safe is Cool", get it? Gimmicky… yes, but now [Zach's] got a tiny little POV fan to hack. Although he may not have known it, this isn't the first time we've seen this hardware. These fans were handed out as a promotion at Black Hat a couple of years ago and prompted some reverse engineering action. The message is stored on an EEPROM and there's even a female programming header that makes it easy to write reflash it with your own messages if you know how to craft the data.
This is where the two products diverge. The older project uses a serial connection and PonyProg to dump and data. [Zach] first tried using his Bus Pirate to dump the data but after having no success he grabbed his Arduino and managed to get the job done. Once the message encoding protocol was worked out, he wrote a sketch to flash the EEPROM. So if you can get your hands on one of these the work has already been done. See [Zach's] custom messages in the video after the break.
But we'd like to see this taken to the next level. How about a wall-mounted device that waits for something, like an incoming email or tweet, then spins up the fan to display it?