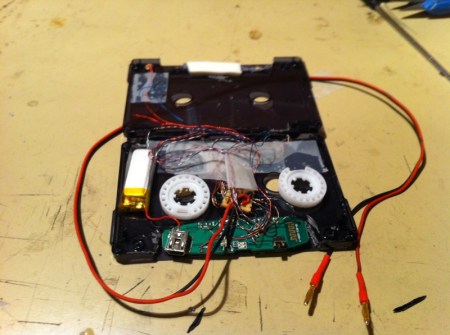 If any of you deal with older car fanatics, you'll know that the original dash stereo is a coveted piece of equipment. If they haven't been removed and replaced with something more modern over the years, they're usually non functional. [Hadrien] has gone through some trouble to retain his original stereo in his 69 Volkswagen Beetle. First, he did a common hack we see even in modern cars. He added an auxiliary input.
This satiated his desire for modern audio for a while, but he really found the necessity for a cable attachment annoying. He decided he was going to add bluetooth (google translated from french).  To do this, he took a pair of bluetooth headphones and tore them apart. Using an old cassette tape as the case, he rebuilt them as something that could be wired directly to his dash stereo. He even kept the mic just in case he wanted to use this as a hands free device.
Being build in 1969, his car stereo doesn't use a cassette, so he just keeps it in the glove box. This isn't optimal, but as he says, at least he doesn't have to plug in his phone.