We're familiar with features like Siri or Microsoft's Cortana which grope at a familiar concept from science fiction, yet leave us doing silly things like standing in public yowling at our phones. Amazon took a new approach to the idea of an artificial steward by cutting the AI free from our peripherals and making it an independent unit that acts in the household like any other appliance. Instead of steering your starship however, it can integrate with your devices via bluetooth to aide in tasks like writing shopping lists, or simply help you remember how many quarts are in a liter. Whatever you ask for, Echo will oblige.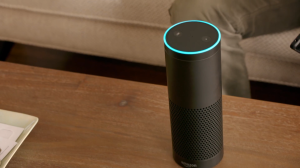 The device is little more than the internet and a speaker stuffed into a minimal black cylinder the size of a vase, oh- and six far-field microphones aimed in each direction which listen to every word you say… always. As you'd expect, Echo only processes what you say after you call it to attention by speaking its given name. If you happen to be too far away for the directional microphones to hear, you can alternatively seek assistance from the Echo app on another device. Not bad for the freakishly low price Amazons asking, which is $100 for Prime subscribers. Even if you're salivating over the idea of this chatting obelisk, or intrigued enough to buy one just to check it out (and pop its little seams), they're only available to purchase through invite at the moment… the likes of which are said to go out in a few weeks.
The notion of the internet at large acting as an invisible ever-present swiss-army-knife of knowledge for the home is admittedly pretty sweet. It pulls on our wishful heartstrings for futuristic technology. The success of Echo as a first of its kind however relies on how seamlessly (and quickly) the artificial intelligence within it performs. If it can hold up, or prove to hold up in further iterations, it's exciting to think what larger systems the technology could be integrated with in the near future… We might have our command center consciousness sooner than we thought.
With that said, inviting a little WiFi probe into your intimate living space to listen in on everything you do will take some getting over… your thoughts?