One of the acronyms you may hear thrown around is DDS which stands for Direct Digital Synthesis. DDS can be as simple as taking a digital value — a collection of ones and zeroes — and processing it through a Digital to Analog Converter (DAC) circuit. For example, if the digital source is the output of a counter that counts up to a maximum value and resets then the output of the DAC would be a ramp (analog signal) that increases in voltage until it resets back to its starting voltage.
This concept can be very useful for creating signals for use in a project or as a poor-man's version of a signal or function generator. With this in mind I set out here to demonstrate some basic waveforms using programmable logic for flexibility, and a small collection of resistors to act as a cheap DAC. In the end I will also demonstrate an off-the-shelf and inexpensive DDS chip that can be used with any of the popular micro-controller boards available that support SPI serial communication.
All of the topics covered in the video are also discussed further after the break.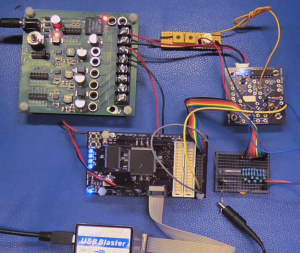 I chose to use Programmable Logic (PL) to build the various circuits as it was quick to configure and didn't require very much construction while being extremely flexible. It also didn't require any software programming, IDE, target processor board, etc. This might be an interesting project for you if you are interested in learning or exercising some basic Programmable Logic skills, here I use Altera's free Quartus II Web version and an inexpensive programmer clone. For the first couple of examples I am using a Complex Programmable Logic Device. (CPLD)
Basic Signal Generation
Creating waveforms can also be done with dedicated logic, for example a CD4060 oscillator/counter can be used instead of the PL counter or also a microcontroller with I/O ports could be used. Note that the microcontroller version does better the more assistance it gets from dedicated peripherals such as a timer or a timer/counter that reloads without waiting for the processor to respond and reset it.
Here are two waveforms created with a simple counter and resistors organized as an R/2R ladder. As the output of the counter increments in binary, the resulting voltage divider created by the interconnected resistors and outputs creates consistent steps between each of the counts; 256 in this case due to 8 outputs being used. Taking the most significant bit also demonstrates a symmetrical square wave.
Building Different Signals is Easy
If the counter were to count downwards upon reaching its maximum count instead of resetting to zero, then a triangle waveform would be generated. So far that's three waveforms using just a counter and some resistors.
On a slightly different topic, using just some I/O lines, an R/2R ladder, and an analog comparator (ala LM339) a basic type of Analog to Digital Converter (ADC) can be made. Don't misread this, we were talking about going from digital to analog before but now we're talking about going from analog to digital.
To describe it simply, a processor or digital counter is connected to the R/2R ladder which is connected to the input of an analog comparator. The voltage to be measured is then connected to the other input of the comparator and then the counter proceeds to count up until the R/2R ladder voltage equals or exceeds the voltage being measured. At that time the comparator trips and the equivalent digital value of the analog voltage being measured is represented by the counter value feeding the R/2R ladder.
Assuming that the voltage to be measured is somewhat stable, the process can be repeated to track the voltage as it (slowly) changes or the count can be reversed until the comparator clears and then reverses. This might be useful for measurements such as monitoring a battery voltage level, etc.
While continuing the use of an adjunctive comparator, a simple voltage to frequency converter can be made by having the counter change directions when the comparator trips. This is not a perfect converter (nothing I do is perfect, life and engineering is a compromise) as very notably the amplitude of the triangle waveform changes in amplitude, but a full voltage square wave would be easy to generate.
Basic Principles for Sine Wave Generation
Finally we can create a sinewave through the addition of a look-up-table that contains the appropriate data to approximate a mathematical sine function. A look-up-table (LUT) is simply a piece of memory such as Read Only Memory (ROM) in series with the data, in our case the incrementing counter represents an incrementing address, and the data output is the result of a pre-calculated Sine table.
For this I have switched to a Field Programmable Gate Array (FPGA) which has better internal memory and the ability to initialize the memory with the contents of the Sine table I created for the LUT. In the schematic for the interior of my FPGA the LUT can be seen off to the right just in front of the output pins.
Programming Complex Waveforms
One advantage of a Sine wave created by DDS is that it can be generated at a wide range of frequencies and keep its same shape (low distortion).
Just for fun and to demonstrate something that can done easily with DDS I created a non-symmetrical waveform. Looking carefully you can see two cycles of square wave, two of ramp and then two of sine wave. Any waveform that can be "drawn" in memory can be created this way.
Other DDS Hardware Options
And finally, if you need a DDS without the muss and fuss of making it out of components yourself, there is a selection of DDS components available that are low cost and accurate. Shown here is an Analog Devices 9387 in an evaluation board from the manufacturer. It is SPI serial interface driven and so can be connected to most available single board controllers.
Varying the frequency and phase of a signal by microprocessor control is integral to a DDS system. The software that comes with the evaluation the board shows that two frequencies and two phase offsets can be stored allowing Frequency Shift Keying (FSK) and Phase Shift Keying (PSK) as well as sweeping between two frequencies. This is a useful capability, for example the frequency response of a circuit such as a filter can be observed by sweeping a frequency on the input and then measuring the output on an oscilloscope.
Go Deeper
If you want to know more about DDS there is a lot of information available on manufacturer's websites and the Internet. Advanced topics to search for include embedded sub-modulation and use with phase lock loops to reduce phase noise, up-conversion using multipliers, and other synthesis circuits used in RF telecommunications.