More than one of our readers suggested we highlight this beautifully-shot process documentary about the laborious and precise manufacturing of piezoelectric quartz crystals in the early 1940s. Just a few years later, Bell Labs would perfect a method of growing synthetic crystals, sending droves of brave men and daintily-handed women from the Reeves Sound Laboratories to the unemployment line.
Early radio equipment relied upon tuned or L-C circuits for clocking. These were prone to drift by a few kHz, which prompted the use of crystal oscillators for stable frequencies in the 1920s. The lives of our armed forces and those of our WWII allies depended on reliable communication equipment, so the crystal oscillators they used were top shelf, produced by hand from Brazilian crust.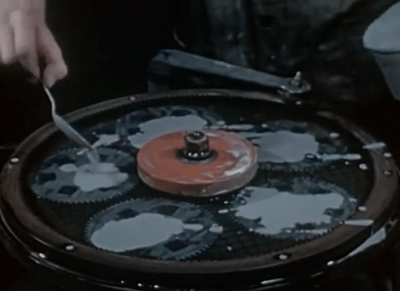 Every step of the way, from raw, freshly-mined quartz crystal to mil-spec engineered crystal units, these minerals are sorted, inspected, verified, cross-checked, and so on. Before any cutting takes place, they undergo testing to determine their optic axis, which is clearly marked with a black dotted line. This procedure also reveals imperfections such as twinning. Every subsequent cut is made with the orientation of the optic axis in mind.
Once the crystal wafers are about an inch square and seventeen thousandths of an inch thick, they are lapped with liquid abrasive until are thin enough to achieve the desired frequency. Finally, they are tested for performance in extreme temperatures and sent tumbling down a vertical maze to see if they fall apart from shocks.
[Thanks for sending this in, Fred and ar0cketman]
Retrotechtacular is a weekly column featuring hacks, technology, and kitsch from ages of yore. Help keep it fresh by sending in your ideas for future installments.