It's no secret the Hackaday tip line gets a lot of email from Kickstarter campaigns and PR firms managing Kickstarter campaigns. Most of these are terrible products. Want a five-pound battery that can't be recharged? Yeah, stuff like that.
Every once in a while, we come across a tip that's a completely original idea. There's a balance between ingenuity and practicality with these ideas, and I can't figure out where this one sits. It's a Kickstarter for perfboard, yes, but not like any perfboard you've ever seen.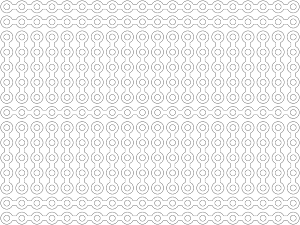 Before we dig into this, let's get some definitions straight. Perfboard is a sheet with holes drilled on a 0.1″ grid. The holes are plated on both sides, and each hole is an individual electrical node. Veroboard, or stripboard is a bunch of holes on a 0.1″ grid. These holes are also plated, but all the holes in a column are a single electrical node. You can cut the tracks between holes, but the basic idea here is to reduce the number of wires needed to connect components. Busboard, seen left, is a continuation of Veroboard, and is laid out like a solderless breadboard.
And so we come to the new invention, Perf+, the perfboard reinvented. This perfboard again is a series of plated holes on a 0.1″ grid. Alongside these holes is a plated bus. This bus does not connect to any hole; instead, a little bit of solder is used to connect it to holes on the same row or column. "Selective Veroboard," you could call it.
Now for the real trick: on one side of the board, the plated busses run vertically. On the other side of the board, the plated busses run horizontally. This means any two holes on the protoboard can be connected as one electrical node simply with a bit of solder.
If ever there was an idea you could point to and simultaneously say, "that's clever" and "I have no idea how to use this," there you go. I'm pretty sure this idea isn't better than a piece of stripboard, but it is different. If you have any idea of how to used this new, strange, and otherworldly protoboard for something useful, put a note in the comments.