Every year teams from around the world come together for the Ecomarathon, an event (ironically put on by Shell) that tasks teams from high schools and universities with creating energy-efficient electric, gas, and hybrid vehicles. This year's competition was held in Detroit, so I headed over to check it out.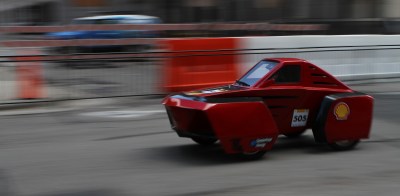 The event has two categories that vehicles compete in: prototype vehicles that compete for the highest fuel efficiency and "urban concept" vehicles that are more focused on normal driving environments and look slightly closer to street-legal vehicles. Cars in both categories can be fully electric or powered by gas, diesel, compressed natural gas, or other alternative fuels. Vehicles drive around a 0.9 mile track that weaves through downtown Detroit and the efficiency of each vehicle is measured as they complete a fixed number of laps around the track.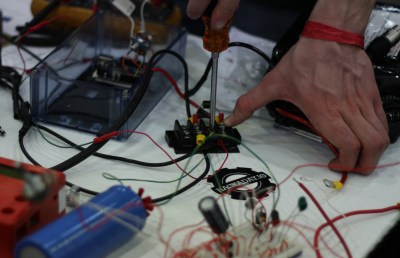 Even though many of these teams are backed by universities with hefty amounts of funding, the skill sets of individual team members have a huge impact on a team's success. I talked to a team from Ohio whose electric vehicle team was made up entirely of mechanical engineers — and they were actually able to put together a fully functional vehicle.
The Ecomarathon requires each electric vehicle to have a custom-designed motor controller, which was a big challenge to a group with both limited time and little electrical experience. To get something up and running as quickly as possible, the team took an Arduino and hooked it up to a bunch of parallel FETs which are PWMed to control their drive motor. Unfortunately their simple design ended up frying a bunch of FETs during competition, probably due to inadequate gate drive. Nevertheless, the team was able to get their car working before the end of the competition and ended up in 11th place with a power consumption of 109km/kWh.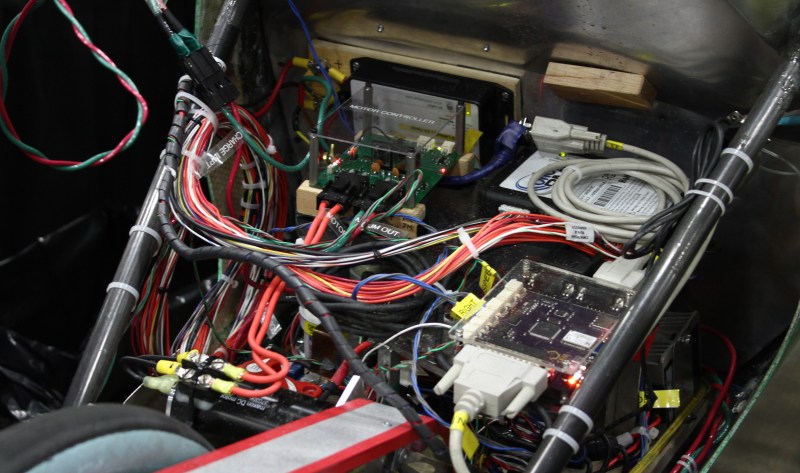 In contrast, some other teams had pretty impressive electronics; custom vehicle controllers built around microcontrollers, and quite a few that interfaced to phones or Android tablets to display live data over Bluetooth or USB. A couple of teams even had web interfaces that displayed live telemetry from their vehicle.
Despite all of the fairly sophisticated electronics, most of the vehicles are based around single-cylinder gasoline internal combustion engines, and most use a commercial engine controller.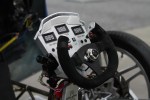 Most teams start out with an off-the-shelf lawnmower engine or something similar in size. Some teams just run the engines stock, while others add mechanical or electronic fuel injection and fabricate their own cylinders and pistons. Teams with stock engines often perform surprisingly well, since a ton of efficiency is gained and lost in the aerodynamics of the car alone.
The construction of each car varies quite a bit: some cars have simple designs around tubular metal frames, while other designs are elaborate composite layups with carbon-fiber roll cages and supports. Some cars have automotive-quality paint jobs, while others have a pretty rough finish. Regardless of the outside appearance, nearly every car I looked at had some sort of awesome hacked-together last-minute fix (note the pop can in the image below).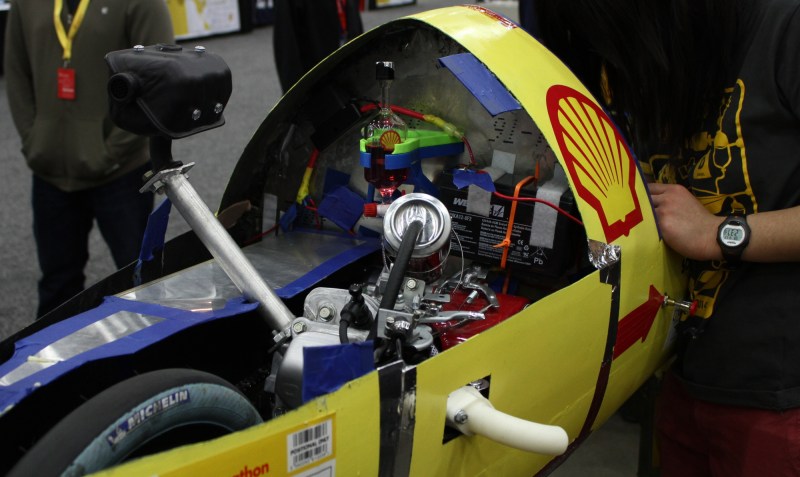 Most of the prototype cars have extremely aerodynamic body shapes, which the students spend a ton of time simulating to make sure they are as efficient as possible. One of the biggest sources of drag for the vehicles is the wheels, so many of the vehicles have aerodynamic covers over the wheels, or actually move the wheels inside the car. Each team had their own take on body design, and most designs were really unique.
Even though these prototype cars aren't anything close to what you might see on the road, this competition brings students together to research and create energy-efficient mechanical and electrical designs. The designs might not directly translate to vehicles on the road in the near-term, but I'm sure the students will use their the skill and passion for engineering and hacking to make the vehicles of the future even more awesome.
Want to check out the scores from the event and see what schools competed? Head on over to the results page.