This past weekend the Maker Faire returned to the motor city. While it seemed a bit smaller than previous years, the event still brought in a ton of awesome makers from the metro Detroit area and beyond.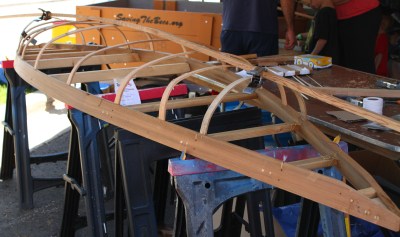 Although we don't feature too many woodworking projects, there were quite a few woodworkers at the Faire with projects ranging from custom longboards pressed with a home built iron mold to DIY kayaks with elaborate wooden skeletons built by a local group of Michigan kayak builders. The kayaks were quite impressive: hand sewn nylon panels are wrapped around custom frames made from steamed white oak. It's great to speak with the makers about the specialized skills needed for kayak building.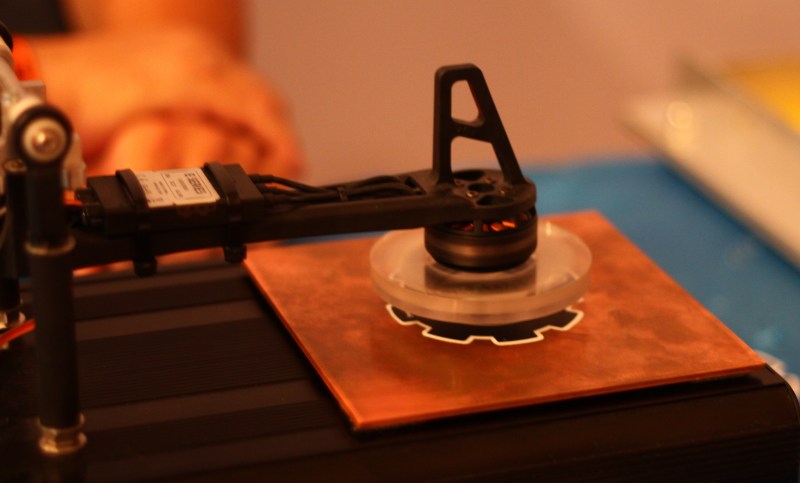 A maker from Carleton, MI brought a pretty interesting setup demoing magnetic levitation produced by eddy currents. His simple demo consisted of a swing-arm with a spinning acrylic disk mounted on a brushless motor. Several magnets were attached to the ring in an alternating north/south pattern. When the motor spun up over a copper or aluminum plate, the arm started to hover about a centimeter above the surface. This design is similar to the tech used by the various hoverboard concepts that have been floating around.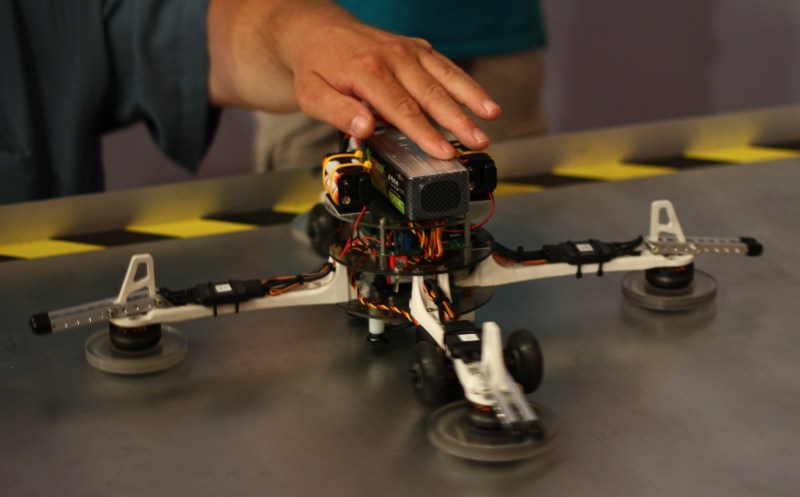 To take the design even further, he mounted his homemade "hover engines" on a quadcopter frame. The quadcopter was able to hover over a small aluminum sheet, and although he couldn't drive the quad around, he was confident that throttling the motors would give some control over steering and thrust. Interestingly enough, the landing gear mounted on the quad is essential: the motors aren't able to spin up when the disks are very close to the surface. To get around this, the quad stays up on its wheels while the motors spin up, and then it lowers down and begins to hover.
There was also an interesting demo of sensing muscle activity with EMG (electromyography). There are a few EMG kits and dev boards out there that amplify your body's signals to usable levels, but you can easily get the job done with a couple electrodes and some op-amps like this maker did. If you're interested in getting started with EMG, check out some posts that we've featured before.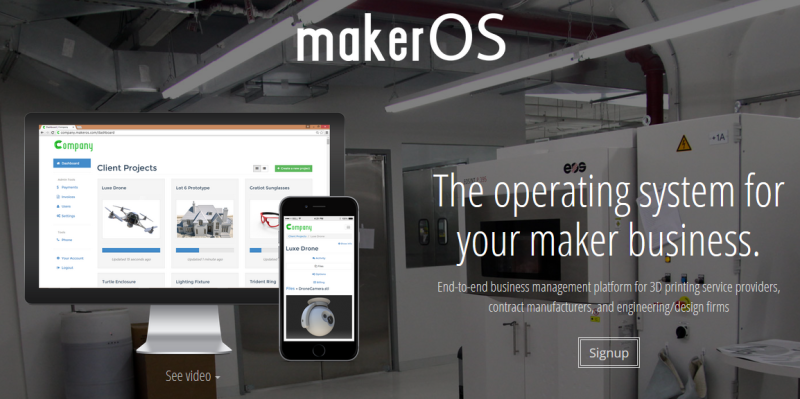 While software projects aren't nearly as eye-catching as hardware and mechanical projects seen around the Faire, the guys from MakerOS made a good showing. They are a small software company out of Detroit that is working on web-based backend for Maker-style businesses (which we've written about before). Their software runs a couple 3d printing companies in the Detroit area, and they just opened up a beta if you want to check it out for yourself.
Another group was showcasing a submersible prototype. The entire (fairly large) chassis is 3d printed and uses a singe thruster mounted in the front of the vehicle. The thruster pushes water rearwards, which is routed through 4 different butterfly valves that the team designed. The valves essentially vector the thrust, and allow the submersible to be steered without multiple thrusters or any other control surfaces. The team's website is incredibly vague, but they said they would be releasing more information soon.