I came across an interesting question this weekend: how do you establish your East/West location on the globe without modern technology? The answer depends on what you mean by "modern", it turns out you only have to go back about three centuries to find there was no reliable way. The technology that changed that was a clock; a very special one that kept accurate time despite changing atmospheric conditions and motion. The invention of the Harrison H1 revolutionized maritime travel.
We can thank Andy Weir for getting me onto this topic. I just finished his amazing novel The Martian and I can confirm that George Graves' opinion of the high quality of that novel is spot on. For the most part, Andy lines up challenges that Mark Watney faces and then engineers a solution around them. But when it came to plotting location on the surface of Mars he made just a passing reference to the need to have accurate clocks to determine longitude. I had always assumed that a sextant was all you needed. But unless you have a known landmark to sight from this will only establish your latitude (North/South position).
Watching the Sun
If you're standing still, you can plot the location of the sun in the sky each day. If you move West from that point, the Sun will be lower in the sky at the same exact time because your new location takes longer to move toward the horizon line. Knowing this and combining it with sextant readings lets you easily calculate your exact position. But you need a very accurate clock to make the first measurement.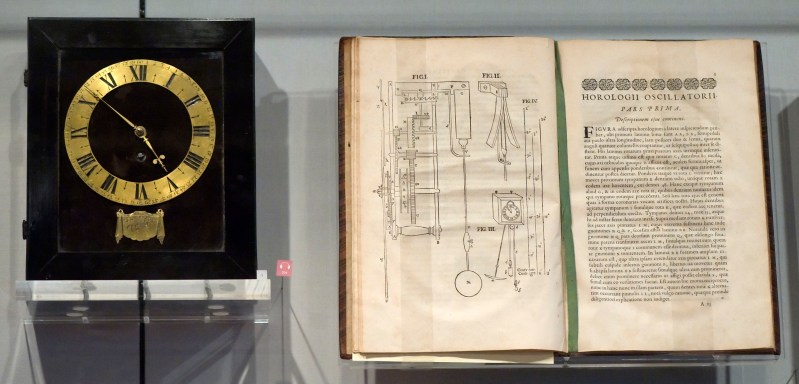 The pendulum clock is a very accurate method of keeping time. It was invented in 1656 by [Christiaan Huygens] but you can't take one on a ship. The rocking of the boat to which the clock is affixed disturbs the regular oscillation and renders it useless. Add to this the conditions the mechanism has to hold up to at sea (changes in temperature, humidity, saltwater, etc) and it's worthless for navigation. So what did they do? Dead Reckoning. That's right, measure (estimate really) the speed of travel and plot it on the map the best you can combined with Sextant readings. The resulting navigation system put mariners hundreds of miles off course and was one of the biggest contributors to maritime deaths.
John Harrison; The Legend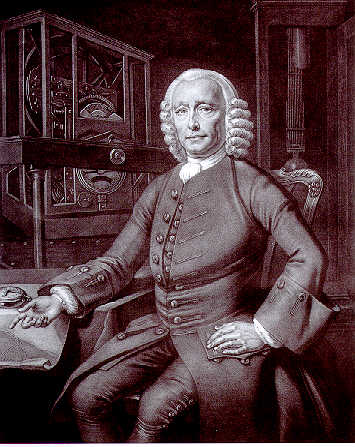 This guy is our guy. You have to sympathize with someone who spent 31 years of his life trying to solve a really important problem, killed it with his invention, and was only marginally recognized for the accomplishment.
His first stab at a maritime chronometer started in 1730 and resulted in the Harrison H1 which was given a sea trial in 1736. It wasn't the very first clock designed for a ship, but it did overcome the problems faced by earlier designs.
First off, you can eliminate many of the problems of pendulums by using a horizontal balance wheel. Balance wheels had already been tried and were proven to be imprecise, especially because of changes in temperature affecting the metal spring used in the system.
The H1 used a novel approach that fixes almost all of the issues. In it, Harrison implemented a double beam system. The two were mounted in a vertical position with the pivot in the middle and weights at both ends. These oscillate opposite of each other and have springs on both ends that pull them toward the center point of the chronometer and push them back out again. This continued shift of momentum is not affected by the motion of the ship or by changes in atmospheric conditions.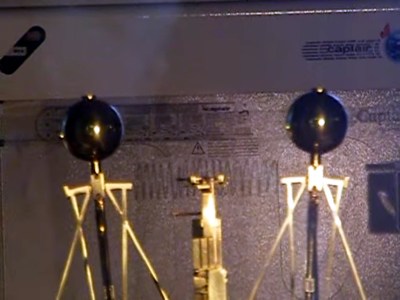 You can see the top weights of a replica H1 shown to the left. This is a screen capture from a very quick clip video showing the clock in action at the Royal Observatory in Greenwich. Take a look and you'll get a glimpse of how large the device is.
Although the H1 worked extremely well in many cases, it was still vulnerable to centrifugal forces and tested rather sporadically. He refined the design twice and by the time he built the H3 in 1759 it included more balancing weights to combat this weakness.
But in the end the entire design was scrapped for a huge leap forward which would become the standard for mechanical watches. It was back to that horizontal balance wheel and spring that proved the ultimate solution. Harrison solved the problem of temperature swings killing accuracy by using a bimetal spring that adjusted its own tension as it warmed or cooled. He also increased the speed of the balance wheel to improve performance. This was realized in the H4 which was completed in 1761.
But don't forget that I mentioned his discovery was somewhat marginalized. One contributing factor to his drive to solve the issue was the Longitude Reward the British Government was offering. The H4 qualified for the highest prize of 20,000 pounds sterling (2.8M at modern value) because it achieved accuracy of less than 30 minutes of longitudinal error. The Longitude Board, which was responsible for making the determination of a winner, asserted that he had to produce multiple copies of the H4. He eventually received the full reward… about 36 years after the first copy of the H4 was shown to be reliable. Better late than never, although the then 80-year-old Harrison might not have been so upbeat about it.
We're Still Using Clocks for Navigation
It would be really interesting to know Harrison's reaction if we were somehow able to explain today's navigation practices to him. Obviously we're not using the H4 to navigate our ocean-going vessels. Modern ships are simply incredible. They have highly advanced navigation and control systems; they even include automatic pirate detectors (arg!). But boats, cars, and your smartphone alike are all still using extremely accurate clocks to get a perfect fix on your global location.
GPS, the Global Positioning System, uses time to triangulate between satellites. There are 24 satellites in the GPS system each with 4 atomic clock sources (Rubidium or Cesium). A GPS receiver locks onto satellites, receiving a chirp from each that includes a time stamp from their clock standard. If you don't already know how this works you need to watch Grace Hopper's explanation of how far a nanosecond is. When you're talking about distances like those from an orbiting satellite to the earth, the speed of light comes into play big time. Calculate the amount each satellite timestamp is off from each other and you can triangulate your location in 3D space: latitude, longitude, and elevation.
We've far surpassed the Harrison H4, but clock accuracy has never been more important for finding our way.