[Vadim] wrote up this short but sweet tutorial on getting started with the Vocore (tiny) OpenWRT-router-on-a-stamp. If you need more computing power than you can get with an ESP8266, and you want an open-source Linux-plus-Wifi solution in a square inch of board space, the Vocore looks pretty sweet.
We covered the Vocore a while ago. It has 28 GPIOs, all accessible from system calls in OpenWRT. It becomes much more computer-like if you add a dock that breaks out the USB and Ethernet functionality, but that also doubles the price.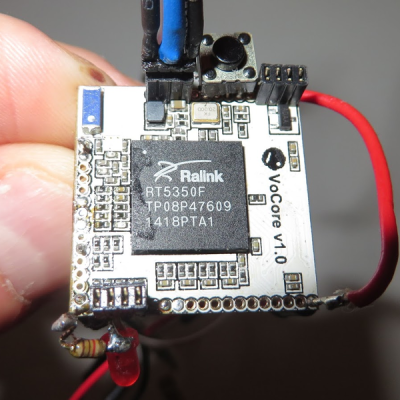 Getting started with a no-frills Linux box (chip?) can be intimidating. So it's a good thing that [Vadim] details a first setup of the Vocore over WiFi and SSH, and then takes you through a button-and-LED style 'Hello World' application that makes simple use of the GPIOs.
He says he's going to interface it eventually with a TI CC110 sub-gig radio unit, but that's going to involve writing some drivers and will take him some time. We'd love to see how to connect peripherals, so we're waiting with bated breath.
[Vadim] also helpfully included an un-bricking script for the Vocore, which restores the default firmware and gets you out of whatever hole you've managed to dig yourself into. Basically, you connect to the device over a USB-Serial adapter, run his script, and you should be set.
Any of you out there using a Vocore? Or other OpenWRT routers? Give [Vadim]'s tutorial a glance and let us know what you think.