For all the destruction and human misery unleashed during World War II, it was also a time of incredible creativity and ingenuity. In America, it was a time when everyone wanted to pitch in. Young men and women enlisted and were shipped overseas, and those left behind kept the factories running full tilt. Even Hollywood went to war, with its steady output of films that gave people a little glamour and provided an escape from the horror and loss of the war. Hollywood stars lined up to entertain troops and raise money for the war effort, and many joined up and fought too.
But one Hollywood star made an unconventional contribution to the war effort, and in the process proved that beauty and brains are not always mutually exclusive. This is the story of Hedy Lamarr, movie star and inventor.
"The Most Beautiful Woman in the World"
By the time she was 23 in 1937, Hedwig Eva Maria Kiesler was a genuine film star in her native Austria. She was also trapped in an unhappy marriage to a rich and powerful Austrian munitions magnate, Fritz Mandl. Hedy was miserable as a trophy wife, adorning the dining room as her husband entertained rich and powerful guests – including Mussolini and Hitler – over long dinners in one of his mansions. They dismissed her; clearly a woman so beautiful could have nothing else to offer, an empty head perched on a graceful neck. But she was far from stupid, and while her husband discussed business with the men who were building the Axis arsenal, Hedy listened and learned.
After fleeing one night for a quick French divorce, Hedy ended up rubbing shoulders with MGM Studios head Louis B. Mayer on a cruise to the USA. By the end of the trip she had secured a studio contract and was soon wowing American audiences as the renamed Hedy Lamarr. The studio hype machine branded her as "The most beautiful woman in the world," an appellation she despised: "Any girl can be glamorous. All you have to do is stand still and look stupid." But the studio's publicity efforts gave her stardom and a steady income, as well as free time – in the 1930s, studios generally contracted stars for only a few movies a year that each took about a month to shoot. Some starlets filled their time with parties and appearances; Hedy applied her curious mind to inventing.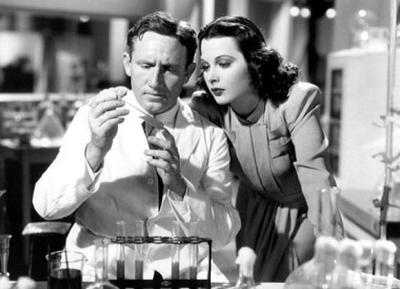 Like most inventors, most of Hedy's ideas never made it off the drawing board (literally; she had a well-used drawing board and T-square in her Hollywood home). One early invention was a compressed cube of flavorings to be added to water as a sort of instant soda pop. It fizzed, but it also fizzled; Hedy herself admitted that it, "Tasted like Alka-Seltzer." But also like most inventors, inspiration comes from unexpected places, and for what would turn out to be her greatest invention, it came in September of 1940 in the U-boat infested waters of the North Atlantic. The S.S. City of Benares, carrying 90 children to Canada for safety from the Blitz, was torpedoed and sank. Only 13 of the children survived. Hedy resolved to find a way to help the Allies deal with the U-boat threat.
Chance favors the prepared mind, they say, and Hedy was prepared. She began puzzling over the problem of remotely controlling torpedoes. From those long evenings as Fritz Mandl's ornament, she had learned that German torpedoes were controlled by wire, and that German glide bombs were radio controlled. Could those two ideas be put together? Was a radio controlled torpedo possible?
Still, something was missing. Hedy knew that radio signals could be jammed, so countermeasures against a radio controlled torpedo would be trivial. From her contacts through her ex-husband, she may also have known that German glide bombs used 18 different frequencies for control, manually selected before the bomb was released; any one frequency could be jammed, but in a full salvo of 18 bombs, at least a few would likely get through. But what if the bomb's receiver and the transmitter in the launch plane could switch frequencies together? That would reduce the chance of jamming. Hedy coined the term Frequenzsprungverfahren for her idea – literally, "frequency-hopping process."
The Movie Star and the Bad Boy of Music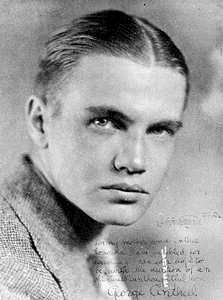 Hedy's idea now had a name, but she had no idea how to build it. For that she turned to her friend George Antheil. George was an American-born avant-garde composer and self-styled "Bad Boy of Music" who palled around Europe in the 1920s with the likes of Salvador Dali, Pablo Picasso, and Igor Stravinski. A genuine genius in multiple disciplines, his most important musical work was the score for a film called Le Ballet Mécanique, which called for sounds from xylophones, electric bells, a siren, and three airplane propellers. But at its heart were supposed to be 16 player pianos playing four separate parts. The pianos needed to be synchronized, and George figured out how to make the pianos, with their "programs" coded on punched paper rolls, talk to each other.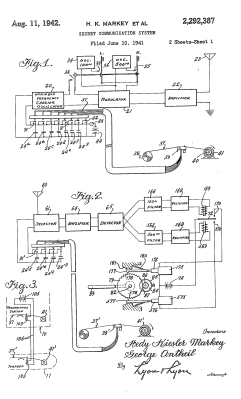 When George heard Hedy's idea in 1940, his mind turned to Ballet Mécanique. Specifically, he saw how a mechanism based on the guts of a player piano could be used to switch frequencies of both the transmitter and receiver – holes in a ribbon rolled over a vacuum manifold would actuate rods that could switch frequencies hundreds of times a minute. Identical rolls in the transmitter and the receiver would ensure that they were both always tuned to the same frequency. George's experience with the music industry came in handy as well, since he was well-versed with the tools and techniques of recording.
Hedy and George refined their idea, coming up with ways to keep the two rolls in perfect synchronization, and adding extra transmit frequencies to send false signals to defeat countermeasures. In 1941, George and the recently remarried Hedy filed for a patent, and on August 11, 1942, US Patent number 2,292,387 was issued to "H.K. Markey et al" for a "Secret Communications System."
Hedy's Legacy
Sadly, Hedy and George's invention did not make it into any wartime weapons systems. Developed as it was under the auspices of the National Inventors Council, a wartime outfit set up to vet ideas with possible military application, their patent was classified, and the Navy, still reeling from Pearl harbor and trying to prosecute the war in the Pacific, was in no mood for innovation. And so frequency-hopping sat on the shelf, largely forgotten until the 1950s, when it found its way into a new sonobuoy design, complete with rotating cylinders to switch frequencies. By that time, the mathematical basis for spread-spectrum communications had been established, and refined versions of Hedy and George's invention continued to pop up in military applications, even making an appearance with the Navy in the Cuban Missile Crisis in 1962.
Today, you don't have to look any further than your phone to see Hedy's legacy – Bluetooth, GPS, and cell phone networks all depend on variations of the spread-spectrum system Hedy first conceived. The entire infrastructure of the modern world depends on spread-spectrum, and the value of the inventions that built upon Hedy's idea is hard to quantify.
For their efforts, George and Hedy received exactly zero compensation and no recognition. At least until 1996, when the Electronic Frontier Foundation gave Hedy and George their Pioneer Award, an honor she lived to see. Unfortunately, Hedy didn't live long enough to see her induction into the National Inventors Hall of Fame last year, but she did follow developments in the wireless world and kept inventing right up until her death in 2000.