Kate Reed is an artist. Kate Reed also builds hand-driven wheelchair accessories that work with any wheelchair. Wait, what? These things don't have to be separate skills. We're living in the age of artisanal creation and Kate is a perfect example that you need to embody all skills. She's an artist who follows a creative idea from inception through to implementation. Check out her talk on the Creative Process in Action from the Hackaday SuperConference, then jump past the break for some more details on what she's been building and how she build her diverse set of skills.
Kate's accomplishments stand on their own. She worked with her friend, Nathaniel Tong, to develop a hand drive wheelchair attachment. Their creation improves the lives of those in wheelchairs by adding a lever which maneuvers the chair in a rowing motion. This uses strong muscle groups, is easier on the user's back, and (something we've never thought of before) it helps keep the user's hands clean compared to pushing at the wheels which themselves are touching the ground. The project was recognized as a Best Product finalist during the 2015 Hackaday Prize.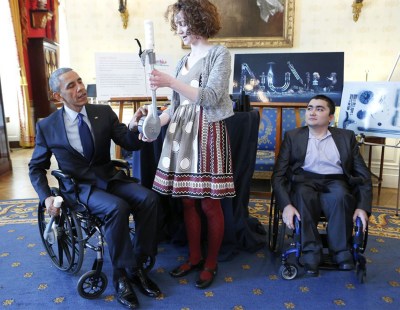 You should be surprised to learn that Kate is a High School student. But her education is taking a much different approach to traditional high school learning. She attends the NuVu Studio, an innovation school for middle and high school students in Cambridge, Massachusetts. The focus is to study the creative process from start to finish. The curriculum involves conceiving, developing, and building things. To us it looks like a technique that turns on its head the stereotype that students having no experience coming out of school, and we like it!
We enjoyed Kate's comment that "Creativity takes practice". The current design of Hand Drive is the sixth prototype. They have been getting better with each rendition, but even the current one broke just as she was demonstrating it to President Obama (after a full day of senators and press giving it a stress test). She rolls with the punches and embraces failure as vehicle for future improvements. We need generations of people who approach life with this creative spirit and we're thankful that Kate is helping pass on those lessons with her Open Designs and with talks like this one.