[Michael Mogenson] built Firefly Jar – a simple circuit to light up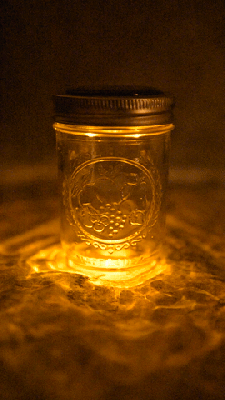 flickering LEDs inside a standard Mason Jar, to give away to friends and family for the holidays. Given it's simplicity and through-hole design, it's an ideal project for a "learn to solder" class or for those wanting to get started with building some really simple electronics. There's just a handful of parts and putting it together shouldn't take long. Given that he's made available all of the source design files, it should be easy for others to spin off the project.
A 55mm solar cell fits on top of the 63.5mm diameter PCB, which in turn fits perfectly in a standard Mason Jar with a collar lid. When in the light, the solar cell charges two 1.2V NiMH batteries. This also switches off the P-channel MOSFET, turning the LED's off. The LED's are turned on only when the solar cell voltage is low and the Ni-Mh batteries are charged. A 2.1V LDO directly drives the two LEDs with built-in flickering circuits, eliminating the need for any further parts. Check out the video of the Firefly Jar below.