If you're looking for the quickest way to go from zero to voice-controlled home automation system, you should spend five minutes checking out [Hari Wiguna]'s project on Hackaday.io where he connects up IoT gadgets and services into a functioning lightswitch. (Video below the break.)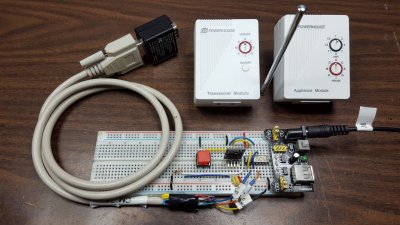 [Hari] demonstrates how to set up a complex chain: Amazon Echo to IFTTT to Adafruit.io as a data broker, which is then polled by an ESP8266 unit in his home that controls his X10 setup. (Pshwew.) But each step along the way is designed to be nearly plug-and-play, so it's really a lot like clicking Lego blocks together. [Hari]'s video is a nice overview.
There's only one catch if you're going to replicate this yourself: the X10 system that's used for the last mile. Unless you have one of these setups already, you're on your own for controlling the outlets that turn the lights on and off. For price and hackability, we suggest the common 433MHz wireless outlet switches and pairing them with cheap 433MHz transmitters, available at eBay for around $1. We've seen a lot of hacks of these systems — they're quite common both in the US and Europe.
We've also covered [Hari]'s projects before: both his self-learning TV remote and a sweet Halloween hack. His video production skills are excellent. We're in awe of how much info he crams into his YouTube videos.