We have just opened up registration for Hackaday | Belgrade — a hardware conference on April 9th. Get your ticket now and make arrangements to visit Belgrade this Spring. Tickets are inexpensive, travel costs from other parts of Europe are very reasonable, the weather will be beautiful, and the all-day madness that we have planned will make you wish it were a week instead of just sixteen hours. These tickets will sell out so please share this post with your friends so they are not left ticketless.
Packed with Amazing People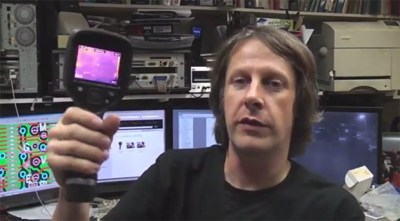 Hackaday is a global community and that is what makes Hackaday | Belgrade spectacular. We are still accepting proposals for talks through February 15th but haven't yet made all of the decisions regarding presenters — you should submit a proposal! We'll publish an article about all of the presenters once we have wrapped up the call for proposals. Expect to hear back about this around February 22nd.
One thing I am very excited about is that Mike Harrison will be at the conference. His talk will cover his exploration of an absurdly expensive and complicated relic which was used in the 1950's for large-format video projection. Mike's ability to unlock understanding of complex (and awesome) electronics is quite amazing; this talk is not to be missed. But Mike is just one of a dozen presenters from all over Europe. Several members of the Hackaday crew will be on hand and the venue will be packed with hundreds of fellow hardware hackers. You won't want to miss this.
You Will Hack This Badge
This is the first Hackaday event where we have an active electronic badge. Voja Antonic has been hard at work with the design and just published the first details a few days ago.
The central feature of the badge is an 8×16 LED matrix driven by a PIC microcontroller. It's running a USB bootloader which will let you flash your own custom code without needing a programmer. We were speaking with some of our friends over at Microchip regarding the bootloader and they offered to supply all the microcontrollers for the badge, an offer we were happy to accept.
Voja has already programmed the first demo application seen here, it's Tetris written in assembly language. Impressive!
We were overwhelmed by the popularity of badge hacking at the Hackaday SuperConference last November. You can bet that badge hacking will be one of the most popular activities at Hackaday Belgrade. I have written a hardware emulator to work on some animations. It uses the SDL2 library to display the LED matrix and take three button inputs (the final badge design will have four buttons arranged in up/down/left/right configuration). Our hope is to host a demoscene competition that is open to anyone, whether you can attend the conference or not. More on that later.
Live Music and Hacking
As the evening sets in and the talks wind down, we have lined up bands and DJs to take the stage and carry us well into night. You won't have to stop the badge hacking or anything else that you're into, but you won't have to solder in silence either.
As you can tell, this conference goes way beyond talks. This is hardware culture and you've just got to be there. Running from 10am until 2am, there's more than enough to keep you occupied for one day. But make sure to hang out on the event page to get inside information on other non-formalized social events that will happen the night before and the day after. See you in Belgrade!