Resin casting lets you produce parts that would be otherwise impossible to make without a full CNC and injection molding set-up. It costs about as much as a 3d printer, 300 to 600 US dollars, to get a good set-up going. This is for raw material, resin, dye, pressure chamber, and an optional vacuum degassing set-up. A good resin casting set-up will let you produce parts which are stronger than injection molding, and with phenomenal accuracy, temperature resistance, and strength. I will be covering various techniques from the simple to advanced for using resin casting from a hacker's perspective.
Today I will be replicating a part exactly. I searched my house for a pending project. I wish I had a more exciting part to duplicate, like a broken hinge or plastic case that I'd like in a different color, but I lost a button on my favorite coat. So I'll be making a matching set of buttons.
You'll need a basic resin casting set-up. For the raw materials, I duplicated the suggestions from the Guerrilla Guide — the standard handbook for fabricating things in your own workshop. So far this has worked out great. I've also had a lot of fun casting urethane rubber for wheels and flexible parts, but that's for another chapter.
I do recommend deviating from the Guerrilla Guide in one regard though. Absolutely skip the purchase of a vacuum degassing chamber if you are on a budget. Buy a pressure casting set-up. As long as you cure both your molds and your resin under pressure you won't have many issues. The most bang for your buck will be a cheap pressure casting chamber made from a paint pot and a discount compressor. I waited for a 20% off sale at my local import store and got my set up for about 150 US Dollars, pot, pnuematics, compressor, and all.
There are a few other accessories I've found to be very handy. One is a miniature paint mixer; most of my resin casting is done at small scale. The silicone doesn't care as much but the resin demands that it be mixed very very well or it will cure improperly (usually with strange and baffling material properties, like being weirdly rubbery, or super brittle and sticky at the same time). I also recommend a box of nitrile gloves, the good kind surgeons might use. Most of these chemicals won't harm you today, but you may build up an allergy to them from constant exposure, which would be hideously inconvenient tomorrow. Also, a trustworthy electronic precision scale. I bought a used Made In USA +-0.01g scale for 25 US Dollars of eBay. It improved my results dramatically. I also recommend the purchase of a brick of soft Plasticine. This is a modeling clay that is oil based and never dries out. Make sure you get one that specifically mentions being sulfur free or it will interfere with your silicone. You can use the clay to do all sorts of magic to plastic parts. It's also reusable. Lastly, some lead weights or shot bags and a ton of rubber bands; these are used to hold your molds together.
Preparing the Part You Want to Duplicate
Once you have your set-up together, the process is relatively straight forward. First remove the plastic part from its assembly and clean it thoroughly. The silicone will pick up amazingly small defects. You'll replicate finger prints and dust. It's pretty spectacular. You may also want to take this time to spray the plastic with a mold release. You'll want to let the release dry and polish it off. It's usually optional, as silicone doesn't stick well to many thermoplastics, but if you have a questionable textured surface, you might as well. It may cause some detail loss.
Most duplicated parts will need a two part mold. You'll hold the parts in position and cast one half of the mold, then, leaving the parts in the silicone, you'll cast the mating silicone mold on top. There are two methods I employed. My usual is to use light glues like rubber cement, or blue tack to hold the part onto a flat surface, and then build the keys and sprues using modeling clay on this flat surface. I usually get a better seal between the mold halves this way.
Unfortunately, I generated a fail of the week; so for this tutorial, I'll go with the other method, which is to embed the parts in a base of modeling clay. I find that this method is exceptionally hard for a non-sculptor to work into a flat surface, and the clay gets everywhere.  It works well, though so don't be deterred from this. I would even say it is the better method of the two. Don't get the hard modeling clay if you want a good time of it though.
Making a Mold of the Part
So, first take some foam core and lay your parts out on it. Think about the orientation of the pour. You will be displacing air and replacing it with bubbles. You want clear path for the air to leave and the resin to enter. There will also be some flashing after the pour is complete. The better you make your mold, the less flashing there will be. In this case I did a shameful job, so there was a bunch of clean-up work to do before my part was done. I decided that the edges of the buttons would be the most easily repaired of defects so I picked that as the parting line for my two part mold.
I then layered the bottom of my mold with Plasticine clay. My clay is terribly hard, so I put it in a plastic bag in a hot water bath to soften. I pressed the buttons boring side down into the mold. I want to get the most difficult side captured in the silicone first. Then I took my index finger and pressed some indexing holes into the clay. This will help me line up the mold later. I would recommend using something more precise, like a pen cap, but it was what was on hand at the time. Lastly, I took a toothpick and carefully sculpted the clay to make a nice even line around every button. I also cleared the button holes, as it is a good idea to have difficult geometry captured on one side of the mold only.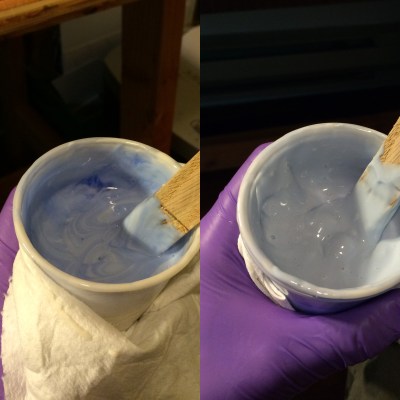 Next comes the fun part. Pouring the first half of the mold. For this I estimated that about 190 grams would be enough. I used a very sophisticated equation to come up with this figure; my scale can only weigh up to 200 grams, and this looked like a lot. Carefully weigh out the two components of the silicone. Again, very very puzzling things happen when you don't. Next, stir forever. You have a while before the silicone begins to set, so stir. Stir until your arms burn. You can't over do it. You should end up with a very uniformly colored, bubble filled, slime.  If you have a vacuum degassing chamber, now is the time to do that. Next comes pouring time.
If you are going to pressure cast the resin you absolutely must pressure cast the mold at the same pressure you will cast the resin. This way any air trapped in the mold will compress to the right dimension under casting pressure.  For a detailed mold, take a brush and gently brush silicone onto the most detailed surfaces. Then, take the silicone and hold it as high above the positive as you can, and start pouring a thin stream into the mold. This breaks most of the larger bubbles and trades them for smaller bubbles that won't matter as much to the pressure casting process. Pour until you fill the mold and then place the mold as level as you can into the pressure chamber.
Depending on your silicone, now comes the wait. Mine takes about 12 hours to cure. Once the period is over, take the mold out of the chamber and remove it from the foam core. Flip it over and carefully remove the clay. Ideally you can do so without disturbing the item you would like to duplicate. Now, you can either go ahead and cast the next half of the mold and carve the sprues into the mold after, or you can make the sprues now with modeling clay. Both have their advantages and disadvantages. For this one I decided to make the sprues out of modeling clay.
Note how the sprues are placed so that air can flow up and out of the mold without leaving behind bubbles. I took a razor and pressed against the edge of the sprues to minimize the contact area with the part.
Once the mold has cured, it comes time to see if all our work paid off. First separate the mold halves by simply cutting a quarter inch (6mm) off the edge of the mold all around. Then carefully peel apart the two halves. Once you have them separated remove all the originals and clay. If you decided not to make clay sprues, this is the point where you carve in sprues using a knife of chisel.
Fit the halves of the mold back together and sandwich them between something inflexible. Wrap the whole assembly with rubber bands.
Finally, Time to Cast the Part!
Set out all your equipment. The scale being the most important. Weigh out the positives to get a good estimate of how much resin you'll need to fill the mold. Then add a decent amount to that number, in this case I just doubled it, for short runs it's better to waste than to redo.
Put a plastic cup on the scale and zero it. Add a few drops of colorant to the cup. For something this size, just dipping the end of the mixer into the pigment jar pulled out enough to dye all the parts. Tare it again. Pour in A and B part in the ratio described by your resin. Then mix forever. Again, the more you mix the better your result.
Pour the resin into the mold until it fills up, then tap the sides. The level of the resin should go down. Tap and fill until you can't anymore. Then put the whole assembly into the pressure chamber and pressure cast again. Now we wait.
Once we have reached the demolding time for the resin (this is usually found in the datasheet) it is safe to demold.  Take all the rubber bands off and separate the mold.Since I used entirely too many rubber bands and planks of foamcore I had some serious flashing issues. These broke off easily though, but I had to spend some more time polishing the edges.
Once the parts were finished I sewed the buttons back onto the coat. I'm not the best at tailoring, so I'm certain I'll lose another button, but that's okay because I have three extra waiting for that day! Even if I lose them all I still have a mold. I could even cast them in a different color if I'd like to look like a concierge.  Pretty cool!