[Paul] participated in a hackathon at work and created a hack to help solve what was ultimately a people problem. A soda fridge at work wasn't getting refilled when empty. Instead of trying to make people less lazy, [Paul] went with making the fridge more needy.
The first thing [Paul] did was make a soda fridge refill sensor from a scale. As the fridge got emptier, it got lighter. The scale senses that and can decide it's time for a refill. The only part missing was how to read the output from the scale. To do that, he took an unusual approach.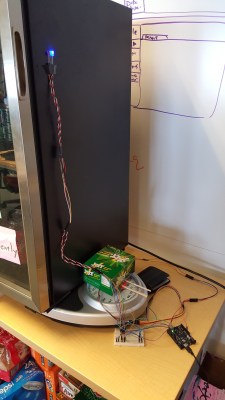 The soda fridge sits on an analog scale with a dial. [Paul] saw there was no need to measure the exact weight of the fridge, only to detect a refill threshold. He came up with a simple hack: colored paper attached to the scale's dial and an Arduino with an OSEPP COLOR‑01 color sensor pointed at the paper. The dial moves in response to the fridge's changing weight, and the color sensor reads the color of the paper as it moves under the sensor. With a little bit of trial-and-error calibration and some barely modified sample code for the sensor, it was possible to reliably detect when the fridge required refilling. With the sensor done, it was time to use it to solve the lazy people problem.
In a way, the root problem wasn't that people couldn't be bothered to check if the fridge needed a refill – it was that the right people weren't finding out at the right times. This resulted in spotty refilling as well as soda not being ordered when needed. This hack means that the fridge can now actively announce its state, which now allows things like notifying people via email that it is their turn to refill and re-order. It turns out that a fridge that can tell people what it needs has a much better chance of being serviced, compared to a one that has to wait for people to check up on it.
We've seen people interface directly to the load sensors in weight scales before, but this hack took a completely different approach.
Thanks to [Paul] for sharing.