Walt and Molly Weber had just finished several long weeks of work. He was an FBI agent on an important case. She had a management job at Houghton Mifflin. On a sunny Friday evening in February of 1995, the two embarked on a much needed weekend skiing getaway. They drove five hours to the Sierra Mountains in California's Mammoth Lakes ski area. This was a last-minute trip, so most of the nicer hotels were booked. The tired couple checked in at a lower cost motel at around 11:30pm on Friday night. They quickly settled in and went to bed, planning for an early start with a 7am wakeup call Saturday morning.
When the front desk called on Saturday, no one answered the phone. The desk manager figured they had gotten an early start and were already on the slopes. Sunday was the same. It wasn't until a maid went to check on the room that the couple were found to be still in bed, unresponsive.
A botched repair on the room's gas-fired heating unit caused it to vent exhaust into the small room. Carbon monoxide quickly built up, poisoning the athletic couple. Walt was dead, and Molly barely alive. She was rushed to Loma Linda University Medical Center. She presented as clinically brain dead. Her athletic physique made her a great organ donation candidate. [Dr. Takkin Lo] refused to declare her though, instead going with his gut and trying out an unproven treatment to save her life. She was placed in a Hyperbaric Oxygen (HBO) chamber, and given an aggressive schedule of treatments.
Her family rallied around her, coming from all corners of the country to be with their loved one. Against all odds, Molly awoke from her coma nine days later. She wasn't out of the woods though. The ordeal left her with a severe brain injury. She needed to re-learn how to walk, swallow, and perform everyday tasks. Most distressing to Molly's family was the fact that her whole personality changed. The person who came out of the coma wasn't the same one who checked into that motel.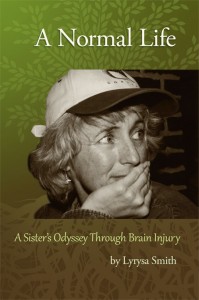 Sadly, Molly's story isn't fiction. It's a fact that she and her family have lived with for over 20 years. Molly's sister Lyrysa Smith has documented the story in an excellent book called A Normal Life: A Sister's Odyssey Through Brain Injury. The book which describes the human side of dealing with severe brain injuries. She manages to put into words how difficult it is for caregivers of people with brain injuries. Psychologists say that when a loved one receives a brain injury, the whole family receives a brain injury.
This tragedy could have been avoided had a carbon monoxide detector been installed in Walt and Molly's hotel room. Many motels and hotels still don't have carbon monoxide detectors, which is why Lyrysa recommends always traveling with a battery-powered detector.
The Silent Killer
Carbon monoxide is an odorless, tasteless, colorless gas with nearly the same molar mass as air (CO is 3% lighter on average). This means that CO doesn't rise or fall, but disperses evenly into the air of an enclosed space. That's why detectors can be placed low on a wall at an outlet, or high up on a ceiling. The gas is toxic to humans at concentrations above 35 Parts Per Millions (PPM). Because of this, carbon monoxide has been dubbed the silent killer. We've all heard not to use a kitchen stove as a heating appliance, or not to run a generator inside the house. The reason is carbon monoxide.
The American Center for Disease Control has stated that unintentional carbon monoxide poisoning accounts for over 20,000 emergency room visits each year, including over 400 deaths. Carbon monoxide poisoning starts with a headache. It progresses to dizziness, nausea, and general flu-like symptoms. Most people think they're just coming down with the flu, and head to bed. This is often a fatal mistake.
Biology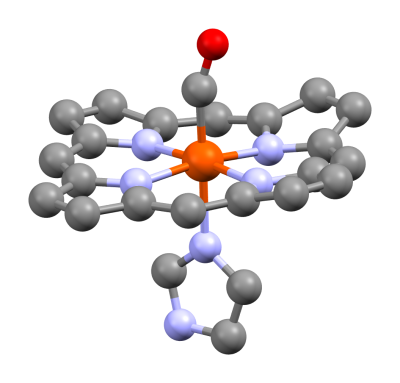 Carbon monoxide can always be found in small amounts in the human body. The molecule is known to have some therapeutic anti-inflammatory effects in humans. At higher concentrations though, CO becomes incredibly toxic. The most frightening part about carbon monoxide poisoning is the method in which it operates. Hemoglobin is the molecule in red blood cells which carries oxygen. Hemoglobin loads up with oxygen in the lungs, becoming oxyhemoglobin. The circulatory system then carries this oxyhemoglobin throughout the body, where it delivers its payload to muscles and organs. Carbon monoxide also bonds to hemoglobin, creating carboxyhemoglobin. In fact, the bond is over 200 times stronger than oxygen. This means carboxyhemoglobin doesn't separate so easily. The carboxyhemoglobin essentially becomes an inert molecule riding through the circulatory system, starving the organs of oxygen.
This is where things get nasty.
Everyone knows that the treatment for carbon monoxide poisoning is to get to fresh air. However, it won't immediately remove carboxyhemoglobin from the blood. That takes time. Carboxyhemoglobin has a half-life of 4 to 6 hours. There is a way to speed things up though. Administering pure oxygen to a victim can reduce the half-life down to less than an hour.
In extreme cases, hyperbaric oxygen treatments are used. The victim is placed into a pure oxygen chamber pressurized to three atmospheres. This forces oxygen to diffuse into the blood plasma, where it is carried to starved tissues.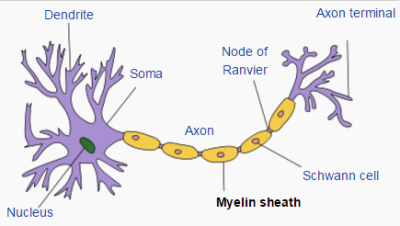 For acute poisoning patients, surviving the initial episode doesn't mean the worst is over. Many patients begin to make a recovery, but between 2 and 40 days later, things change. The patients rapidly show signs of further brain damage. Balance, memory, and cognitive functions all affected. This phenomenon is called delayed neuropsychologic sequelae, and it was devastating for Molly Weber. The mechanism of neuropsychologic sequelae is still not completely understood. Research has shown that carbon monoxide damages Myelin Basic Protein (MBP), the material which surrounds nerve cells. The damaged MBP triggers the body's immune system. White blood cells called leukocytes attack and remove the damaged MBP. The leukocytes don't stop there though. They begin to attack healthy MBP, destroying healthy brain tissue. The result of this biological one-two punch leaves permanent brain injuries that can take years to recover – if recovery is possible at all.
In researching this article I was reminded how little we know about the brain, how it can be injured and how it recovers from those injuries. If there is one place where bio-hackers can really make a huge difference, it's in studying and trying to understand how all this works.
Environment
Carbon monoxide is created by several different methods. Volcanoes and other geological sources release carbon monoxide into the atmosphere, as do forest fires. The major contributor though is man. Satellites such as NASA's Terra spacecraft keep an eye on carbon monoxide in the atmosphere. Streaks are often found over cities and where crop residue and forests are being burned.
The chief way CO is created is through incomplete combustion of carbon-based fuels. If there isn't enough oxygen present to oxidize a fuel to CO2, CO is the result. Internal combustion engines produce huge amounts of carbon monoxide. A properly tuned gasoline engine can produce as much as 30,000 ppm CO. In the United States, gasoline and diesel vehicles produced after 1975 have catalytic converters which greatly reduce CO emissions. However, not all vehicles are well maintained. Every year deaths are reported from people sitting in idling cars with faulty exhaust systems.
Small engines such as generators and power washers don't tend to have catalytic converters, yet they still produce large amounts of carbon monoxide. Generators running inside homes kill families every year. Even running a power washer in a semi-enclosed space such as a parking garage is enough for the gas to build up to dangerous levels.
In the home, most carbon monoxide poisoning events happen due to problems with gas-fired appliances. A properly tuned water heater, boiler, or furnace will create some CO. If the air band isn't correctly adjusted, CO levels rise. If the exhaust becomes blocked or compromised, the CO will find its way into the living spaces. Just in the last week, a home in Oklahoma filled with CO when roofers blocked the water heater exhaust stack. Thankfully, the family had a carbon monoxide detector in their home, and nobody was injured.
Sensing Carbon Monoxide
As the above Oklahoma family learned, the best defense against carbon monoxide poisoning is a good detector. This requires a method to sense the gas, which is no easy task. To be reliable as safety devices, detectors and the sensors within them need to be accurate and repeatable. There are a few different ways to measure CO. Semiconductor sensors use tin dioxide heated to 400 °C. The resistance of the sensor changes when exposed to CO. A great example of this type of sensor is the MQ-7, which is popular in the maker crowds. Unfortunately the power requirements of such a sensor means it isn't very well suited for battery-powered devices.
The vast majority of carbon monoxide sensors use electrochemical cells, very similar to fuel cells we often see here on Hackaday. The typical carbon monoxide sensor is a two or three terminal device with two or three electrodes: a working electrode, counter electrode, and sometimes a reference electrode. All the terminals contact an electrolyte fluid. In carbon monoxide cells, the electrolyte is often sulfuric acid.
The working electrode is where the action happens. Typically made of platinum, the working electrode sits just behind a watertight but gas permeable membrane. Air enters the cell and contacts the electrode. The platinum oxidizes any carbon monoxide, causing an imbalance in the cell. The counter electrode is a place where electrons are added or removed to "counter" the reactions occurring at the working electrode. If present, the reference electrode is isolated from the carbon monoxide, and provides a reference to the potential of the electrolyte. It is often omitted from modern detector designs. Nowadays, the counter electrode does double duty – acting as a measurement point and balance input to the cell. Every cell is different, which is why most manufacturers test each cell, even printing the mA per PPM value right on the cell case.
Managing and reading carbon monoxide sensor takes a fair bit of electronics. In the classic analog system, an op-amp circuit called a potentiostat monitors the reference electrode, and changes the voltage at the counter electrode to keep the cell in balance. The overall output of the cell is measured as current traveling into or out of the working electrode. This current is in nanoamps, so a transimpedance amplifier is used to convert current to voltage, as well as boost the signal to a level which can be easily measured by an analog to digital converter.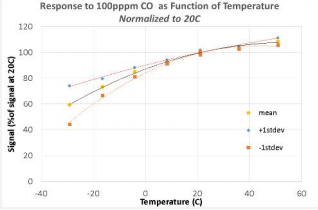 For a practical view on working with carbon monoxide cells, I reached out to [Victor Aprea] of Wicked Device. [Victor] created the Air Quality Egg, an open source air quality measurement device. Victor found that getting accurate carbon monoxide readings requires more than just reading the sensor. Sensor response curves change based upon environmental conditions. Temperature is the big one – CO readings can be off as much as 15% in extreme temperature situations. Atmospheric pressure is another factor, as are the influence of other gasses. [Victor] spent quite a bit of time working out the curves and modifying the firmware of the Air Quality Egg to compensate. He wrote several informative blogs on his work: here, here, and here. [Victor] also has found cross-sensitivity with other gasses is an issue. Thankfully for the particular CO sensors used in the Air Quality Egg it isn't quite as big a problem as the environmental issues.
I should note that there is more to a detector than just the sensing element. Most countries have safety standards for designing carbon monoxide detectors. In the USA, the commonly accepted standard is UL 2034. The 2034 standard is based upon a 10% carboxyhemoglobin saturation in humans. The idea is that a detector alarms when concentrations are high enough to be dangerous, but only after a certain amount of time has passed. An example would be at 70 PPM, the alarm should sound between 60 and 240 minutes. It sounds a bit counterintuitive, as humans begin suffering from CO poisoning at around 35 PPM. The time delays are to reduce false alarms. A carbon monoxide detector is no good if it false alarms so much that someone pulls the batteries out due to false alarms.
As part of my research for this article, I ran a few tests on commercial carbon monoxide alarms. You can find my the results of my tests and see the tear down over on my Hackaday.io project page.
So, Hack?
So why is all this on Hackaday? Simple, because CO detectors aren't prevalent enough. In the US, there are laws regarding the use of carbon monoxide detectors. However, they are still incredibly soft.
According to the National Conference of State Legislatures (NCSL):
5 states require CO detectors in schools buildings.
12 states require CO detectors in hotels and motels.
37 states require CO detectors in homes.
Just about everyone is carrying a smartphone these days. Why don't we have carbon monoxide detectors inside them? The same goes for smartwatches. The much hyped sensor suite on the Apple Watch is capable of measuring oxygen saturation in the wearer's blood. Adapting this sensor to measure carbon monoxide saturation is a matter of adding a couple of LEDs and software.
There have been a couple of efforts to mix smartphones and sensors. The CELL-ALL project was a 2010 effort on the part of DHS to add sensors to cell phones. Unfortunately it hasn't really gone anywhere.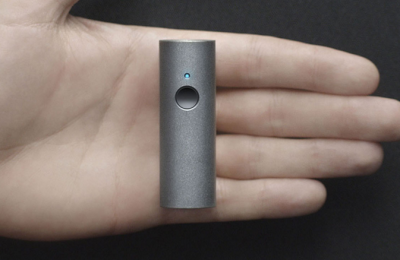 SensorDrone is a sense-everything device which did well on Kickstarter back in 2013. SensorDrone did get delivered to backers, yet it never got the community support Sensorcon was hoping for. Today, it seems to have disappeared from Sensorcon's website. Atomtube is a similar project which recently finished up on Indiegogo. It hasn't delivered yet, so I can't say much on how well it will perform in the real world.
Standalone wearable carbon monoxide sensors do exist, but they have some caveats. Companies like BW and Sensorcon sell these sensors for firefighters, HVAC techs and other professionals. Priced at $100 and up, the sensors are still relatively expensive. They also require periodic calibration and bump testing, which means either investing in an expensive calibration gas system, or sending the sensor back to the manufacturer and paying a fee. Much of this is required because electrochemical cells don't age well. Their response decreases over time. The cells can also be damaged if exposed to chemicals and certain solvents. Still, wearable carbon monoxide detectors are proven to save lives. Two EMTs on Long Island were eating breakfast at a diner when their CO detectors went into alarm. The EMTs were able to evacuate diners before anyone was sickened. Just one year earlier, one man died and 26 were hospitalized after a CO leak at another Long Island restaurant. Working out new ways to detect carbon monoxide – spectroscopy, different silicon sensors, or technologies which I haven't even thought of – might be better ways to handle the problem. Any advancement in Carbon Monoxide sensing and detection would make an excellent entry in the Hackaday Prize. If everyone works together on projects like this, we can work toward ensuring that stories like Molly's never happen again.
Author's note: I'd like to thank Lyrysa Smith and Victor Aprea for their help in researching this article.