A toast to all the hackers out there who like to do it scrappy, who fight hard to get your products to work, who make your own tools and testing jigs and assembly lines in your basement, and who pound the pavement (and the keyboards) to get your product out there. Here's to you (*clink*).
I had the fortune of a job interview recently in a big faceless company that you may have never heard of but probably use their stuff all the time. They make billions. And it was surreal. This article is about what it's like for a scrappy start-up engineer to walk into the belly of the beast of an organization that counts its engineers in the tens of thousands. For obvious reasons, I can't go into specific details, but let me paint for you in broad strokes what you, the hacker and entrepreneur, are up against.
When you have a company that's been around for decades and whose yearly sales volume has more digits than some countries, everything is a few orders of magnitude bigger in scale. People, resources, volumes, everything.
People
It starts with noticing belt buckles. Why? Because belt buckles indicate two things; the people are wearing slacks, and they have tucked in shirts. Some culture shock there, but I rolled with it. But this culture extends beyond the waistline; everything is clean and cared for. You don't have to empty your own trash can? Mind. Blown.
If you're a solo founder of a company, you handle the business, sales, product development, procurement, assembly, shipping, support, etc. Any one of those things is a significant learning curve and a lot of work. Big companies have departments that number in the thousands for each of these aspects. They can specialize down to a single component of a sub-module of a product. There's an engineer whose sole responsibility is evaluating a new chip and mastering it so that she could be the chip guru for a new product. There are people who only test products, people who only write documentation, people who only handle certifications.
You know that at the end of the day, the success or failure of your baby depends on you, and getting hit by a bus will be catastrophic to the company, while in a corporation (and this actually came up in conversation), the bus would have to plow through the entirety of one of their buildings. And you have an attitude that is completely aware of that; you're not coasting through the work week.
You, the scrappy hacker, are doing the job of scores of people.
Resources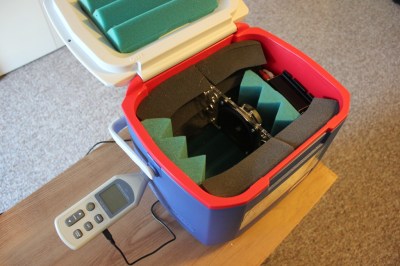 During the interview, I bragged about the tools that I had hacked, like building a reflow oven that I used in production, or the mini-fridge I used as my environmental testing chamber, or the cooler I used for an acoustic chamber. For only a few hundred dollars I had put together a pretty good assembly line, testing facility, etc. I wasn't sure if they were impressed, but on the tour afterwards I realized that they were probably confused why I would bother spending my time making tools instead of buying them.
We passed an SMT assembly line with top of the line equipment. We passed (for a good 10 minutes of walking) ONE of the product testing facilities. We passed the environmental testing facility, where their new equipment was about to be replaced with even newer and fancier tools. They didn't even bother showing me the the other big testing lab because it was too far to walk. They talked about the preliminary focus groups they'd done, and the level of space, capital, time, and money that were being dedicated to the project. Compared to these guys, you, hacker, are making things as complicated as cell phones with what amounts to banging two sticks together.
Volumes
When you're this big, an email from @bigcompany.com carries weight, and people jump at the opportunity to be your customer. They had direct access to engineers at partnering companies, and engineering samples for components that were more sophisticated and beautiful (and unavailable to the plebs) than transparent aluminum. When you are talking in volumes as big as they are for rolling out new products, whole new tiers of pricing is revealed, and calculations become entirely different. They told me about how they were doing a million dollars in revenue a year on a tiny product they stopped developing decades ago. I would LOVE to have a million dollars in revenue on my flagship products!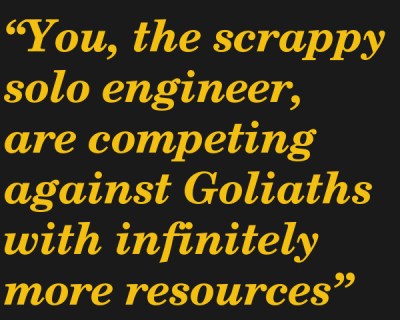 Let's walk through an example. Say you release a new product and START with a volume of 100,000 units. Let's throw out some more nice round numbers to make calculating easy. Let's say the retail price is $200, making the wholesale $150, and the landed cost to the manufacturer $100. So to roll out this product, you're looking at $10 million dollars in inventory alone, and that's just to start. Of course, they anticipate yearly volumes in the millions of units, so let's say 1 million units for a year. $100 million in inventory, with a profit of $50 million. In order to break even after a year, they have to spend $50 million or less on development of the product and marketing. Let's say our environmental testing lab technicians are $75k and there are 2 of them. (completely made up numbers here; I have no idea how much lab technicians make). And let's assume the product takes a year to develop. That's $150k out of $50M. They'd be spending 0.3% of the first year's profits alone on environmental testing. Yes, I know they won't be working the full year on that product, but that only makes my point stronger. You, the scrappy solo engineer, are only allowed to dedicate the same 0.3% of your resources towards environmental testing, and you probably don't already have your own testing equipment so you have to procure that somehow. If it takes you a year to develop your product, that leaves you 3/4 of a day to make sure that your product will survive environmental conditions throughout the range of the product's uses. You just can't put the same level of detail and rigor into product development because you're operating at a completely different level of volumes.
So while you have insight into every level of your business, every cost and fee, you don't have access to the kinds of things you can get when working in volumes this large. You can't spend as much time worrying over every aspect of the packaging and getting it to be Apple Store ready. You can't even get conversations with people who can help because you're dealing in volumes for which they cannot be bothered.
Customers don't care
In general, customers don't care about how resourceful or nice or talented the product developers are. They want the product to look great, work great, and be cheap. You, the scrappy solo engineer, are competing against Goliaths with infinitely more resources, but when placed side by side on the retail shelf (if you're lucky enough to be able to get there), the customer has no idea. They can see one looks more polished and cheaper, so they pick that one. They don't know about cost structures and volume pricing, or development costs or tool amortization, or fixed certification costs. It's a classic David and Goliath battle, except the crowd doesn't see an underdog or a mismatched fight.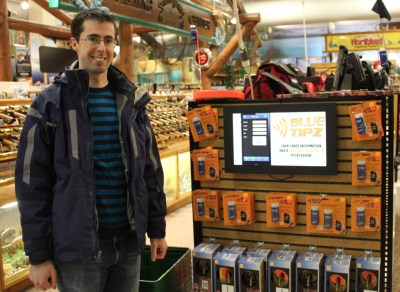 This big company didn't start off so big 100+ years ago. They, like all companies, started scrappy and kicked and fought their way up and amassed resources and acquired value until they became the behemoth they are today. There are a lot of people who feel comfortable nestled in the security of a big corporate culture. They look at entrepreneurs and hackers like they're crazy (we kinda are). But this is what we're up against, and the numbers paint a scary story that makes nearly impossible the American dream of becoming a wealthy entrepreneur who builds his empire from scratch.
So, dear hacker, let me finish this winded toast by pointing out your advantages. You move fast; you identify a problem and build a solution faster than a big company knows that there's even a market. You know your customers and form relationships with them, few as they are. You know the ins and outs of your business and can run a tight ship with little waste. You are passionate about your products and take great pride in what you've accomplished. You have the potential to get rich and famous. And you are welcome here any time with your sweet hacks.
Let us know how you've gone up against the big guys and how you've cobbled together your own tools.