We're not sure we condone this at all. CRT monitors are virtually extinct, and here we have some folks just smashing them up for no good reason. That said, it's kinda cool to see large industrial robots in motion, so we can't really blame them. (Video embedded below.)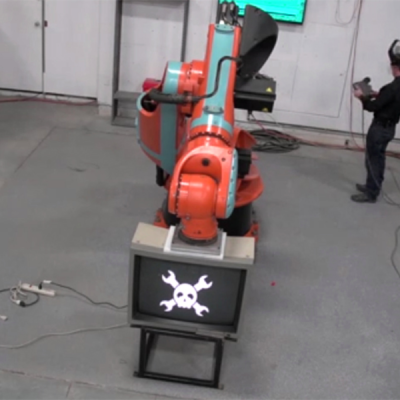 We've covered the [Geek Group] crushing TVs with their robot arm before although that first try was more like a fail, in the sense that the TV was only partly smashed. At the time, we joked that it was because they had a Jolly Wrencher holding the CRT together. But it could have been that the robot arm simply lacked the requisite grunt.
This time they came to it with a stronger robot arm, and removed the Jolly Wrencher from the screens. These folks aren't scientists — changing two variables at once leaves the experiment inconclusive. But they do smash things. So that's a success, right?
OK, [Geek Group], you've had your fun. We give you one free pass with the wanton destruction. What's next with the big arm?