I had a great time at Denver's 3rd annual Mini Maker Faire, which was held inside the Denver Museum of Nature and Science. The official theme this year was "Building the Future" and looking back, I can tell you that they pulled the theme off well. There was a strong turnout in two categories that are crucial to building the future: the growth that comes from education at all ages and the physical places where learning becomes immersive.
The Really Fun Stuff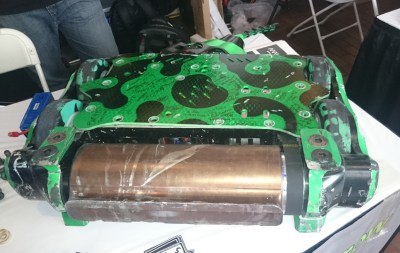 [Casey] from Caustic Creations were showing off Poison Arrow just in time for season 2 of the BattleBots reboot. Poison Arrow is 250-lb. drum spinner that destroys things at 9,000 RPM. Here's a nice introductory video shot by their sponsor, Arrow Electronics. [Casey] told me that Poison Arrow will be on the June 30th episode, so set your DVR.
Who knew that Colorado had so many maker- and hackerspaces? Colorado Makerhub, that's who. They provide a portal to everything maker-related in Colorado, and they were in attendance along with most of the 'spaces within a 50-mile radius of the city. Denver's own Denhac brought a huge multiplayer rig that they had built for Comic Con last year. It runs Artemis, a spaceship bridge simulator game that divides up the tasks necessary for successful intergalactic travel. Here's a video of Denhac member [Radio Shack] describing the game and giving a tour of one of the consoles. The group landed a space in one of the darker areas of the museum, which made the blinkenlights irresistible, especially to boys of a certain age range.
Made in Colorado
Both SparkFun and Aleph Objects (Lulzbot) are based in Colorado, and both were doing their part to entice the makers of tomorrow. The badge-making station at the SparkFun booth was always busy, but I did get a chance to play with their yellow ball-following robot. It's worth noting that they didn't bring a bunch of soldering irons with them—the badges were being constructed with copper tape. I'm sure this saved a lot of worry and electricity.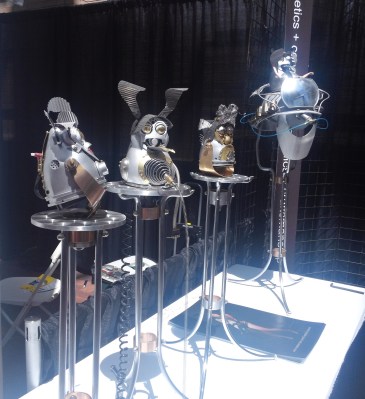 Aleph Objects brought their new Lulzbot TAZ6 of course and were running it alongside a Lulzbot Mini.
We told you about NixCore in a links post last fall. This is a small Linux-based router board with a dev board add-on option. [Drew] himself was on hand giving live demos and selling boards. $30 is a pretty good price for this small SBC that's not quite a Pi or an Arduino nor an ESP8266.
Representing the more artistic side of things was [Ira Sherman], an artist and metalsmith. Along with his Escheresque metal sculptures, [Ira] brought some Toys That Play With People. These are made from the boards and sometimes the bodies of Furbies and other toys that walk and talk. [Ira] uses these circuits to control pneumatics in striking creations.
The STEM is Strong with This One
There aren't too many things aimed at children that can make me literally ooh and ahh, but I found one at System 76's booth. They brought an open-source augmented reality sandbox created by [Oliver Kreylos] of UC Davis. It was every bit as cool as it sounds. A projector and a Kinect transform 200 pounds of really fine white sand into a shape-shifting topographical map where mountains, valleys, lakes, and rivers blink in and out of
existence. As sand is piled up, the colors of the elevation approaches red. As sand is removed, it moves toward blue to indicate water. Here's the best part: holding your hand flat and still over the map simulates rain.
Another busy booth was like an express Pinewood Derby. Aspiring race car drivers could build a car and send it flying down a two-slot track. Sensors and lights near the end of the run determined the winner without question.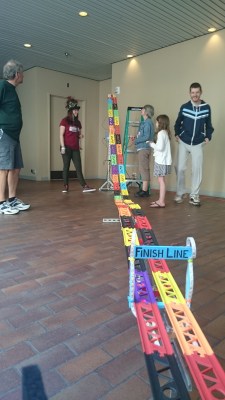 One of the more attention-grabbing displays belonged to mcSquares, a collaborative, modular whiteboard system. What's  interesting about mcSquares is that there is no traditional whiteboard surface involved. The system is made up of thin-profile tiles that are just under 12″ x 12″. A clear plastic surface snaps into a backing that holds a background. This can be anything from a plain white sheet of paper to a basketball court layout to a simple dot grid. Neodymium magnets on the back of each mcSquare snap to a visually appealing wall mount which makes it easy to move them around.
 It Isn't Maker Faire Without. . .
Steampunk jewelry. Human Foosball. Some booths devoted to the textile arts. At least one R2D2 zipping around. It was all there to round out a great weekend of hacking, making, and learning. Be sure to check out the gallery below.