I had a great time at Denver's 3rd annual Mini Maker Faire, which was held inside the Denver Museum of Nature and Science. The official theme this year was "Building the Future" and looking back, I can tell you that they pulled the theme off well. There was a strong turnout in two categories that are crucial to building the future: the growth that comes from education at all ages and the physical places where learning becomes immersive.
The Really Fun Stuff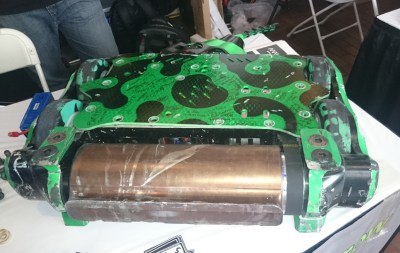 [Casey] from Caustic Creations were showing off Poison Arrow just in time for season 2 of the BattleBots reboot. Poison Arrow is 250-lb. drum spinner that destroys things at 9,000 RPM. Here's a nice introductory video shot by their sponsor, Arrow Electronics. [Casey] told me that Poison Arrow will be on the June 30th episode, so set your DVR.
Who knew that Colorado had so many maker- and hackerspaces? Colorado Makerhub, that's who. They provide a portal to everything maker-related in Colorado, and they were in attendance along with most of the 'spaces within a 50-mile radius of the city. Denver's own Denhac brought a huge multiplayer rig that they had built for Comic Con last year. It runs Artemis, a spaceship bridge simulator game that divides up the tasks necessary for successful intergalactic travel. Here's a video of Denhac member [Radio Shack] describing the game and giving a tour of one of the consoles. The group landed a space in one of the darker areas of the museum, which made the blinkenlights irresistible, especially to boys of a certain age range.