Here at VCF, we stumbled across a gigantic contraption that spanned several tables. Rube Goldberg machine this was not. Instead, this device actually does something useful! [Tim Robinson's] differential analyzer can solve differential equations through several stages of mechanical integrators. The result is a pen-plot graph of the solution to the input equation, input by displacing a rod as a function of time.
Differential analyzers have been around for over a century. [Tim's] claim to fame is that this particular DA is constructed entirely from Meccano-branded parts. We're thrilled to see Meccano, over 100 years old at this point, continue to find new uses outside the toy box.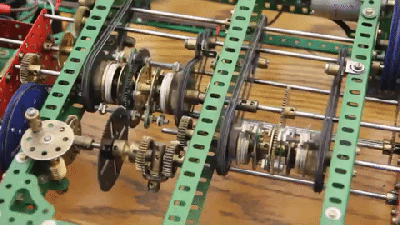 The differential analyzer is riddled with mechanisms that are bound to swing some heads for a double-take. Since the input shaft that transmits the input function f(x), has very little friction, the result can only be carried through the remainder of the machine with some means of torque amplification. To do so, [Tim], and most other DA designers implement a torque analyzer. For [Tim], though, this feat proved to be more difficult (and more triumphant) than other solutions, since he's using a set of parts that are entirely from Meccano. In fact, this feature took [Tim] through about 20 iterations before he was finally satisfied.
VCF West continues to run through the end of the weekend at the Computer History Museum in Mountain View, CA. If you haven't already packed your bags for DEF CON, stop by for a few more bewildering brain teasers.