We have a love/hate relationship with LiIon batteries. They pack all this power in such a small and light package. But for running 3.3 V devices, they're cumbersome. They need to be stepped down a little bit when they're fully charged at 4.2 V, but then they need to be stepped up at the end of their charge around 3.0 V.
A simple boost or buck converter can't do both jobs, although you'd be tempted because they can be purchased for peanuts online. So [Kirich] hacked cheap boost converters into the more capable SEPIC topology, which sell for nearly 10x as much. (Google translated version here.) The bottom line? With a little desoldering, a cut trace here and an extra inductor there, and [Kirich] had a very capable circuit that would maintain a constant 3.3 V output when the input swung between 1 V and 5 V.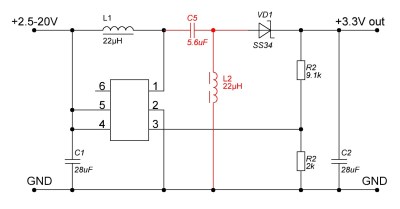 If SEPIC power converters are foreign to you, have a read through Maxim's white paper on the subject. Basically, it's a boost converter with a capacitor in the middle that lets the output voltage drop below the input voltage. An extra inductor keeps the output side of this capacitor at ground potential (on average).
If you want more detail, [Kirich] doesn't disappoint. He tested his modifications in multiple configurations on two different models of boost converter. As you'd expect with power circuitry, layout and trace length matters, and [Kirich] took good notes. This is a great read for the frugal hacker, or anyone who's interested in boost/buck converters.
Speaking of boost/buck circuits, we've got some more links for you. This video from Sparkfun's [Pete Dokter] is worth fifteen minutes, and if you want to get your hands really dirty in the construction of such circuits, this ATtiny-based boost converter circuit is fun to play with.
Thanks [kirillre4] for the great tip!