I'm not saying that the magic pocket oracle we all carry around isn't great, but I think there is a philosophical disconnect between what it is and what it could be for us. Right now our technology is still trying to improve every tool except the one we use the most, our brain.
At first this seems like a preposterous claim. Doesn't Google Maps let me navigate in completely foreign locations with ease? Doesn't Evernote let me off-load complicated knowledge into a magic box somewhere and recall it with photo precision whenever I need to? Well, yes, they do, but they do it wrong. What about ordering food apps? Siri? What about all of these. Don't they dramatically extend my ability? They do, but they do it inefficiently, and they will always do it inefficiently unless there is a philosophical change in how we design our tools.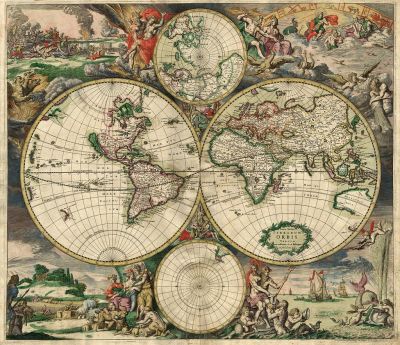 When we began augmenting our natural ability we started with simple things. Levers, fire, chalk and slate. The real change came when we realized that writing things down and drawing pictures could store memories with exacting precision and we began to invent empiricism. This let us draw maps that recalled the world better than we could. This let us keep notes and agendas that instantly outclassed our natural ability. Most importantly they let us compress hours of human labor into something that could be digested quickly and in parts. A letter might take a day to draft but it could get its point across in moments.
However, there's a common thread in each one of these tools. The intelligence was always the human's. A tool simply extended one aspect of a person's ability but not the person. Either that or it facilitated communication to another person. It increased the potential amount of information that could be transmitted to another mind at once to a significantly higher level, but how efficient that transfer was depended a lot on how well the person communicated. To pick a forced metaphor, it's like adding RAM and keeping the same CPU.
We Need a Band-Aid-Rip of Change
Now, the change I'm hoping for has begun to happen in the tech world, but it's so tacked on to the existing applications that it appears to be a sort of happy mistake rather than an intentional design choice. Our tools need a brain of their own and they need to work in tandem with us. Every single technology out there is ready to be pushed completely out of its market because they are just optimizations on pen and paper. They are not optimizations on us.
Let's take Google maps as an example. Right now maps is like a navigation coprocessor. It doesn't do anything we can't do and it doesn't do anything unless we tell it to. We could carry an atlas or get a tourist map and plan our route out manually. It just delivers the map to you without you needing to keep every possible map in your car.
We could learn to use a compass and orient ourselves. This is provably within any moderately intelligent person's ability. It's not doing anything special. However, this can only get so efficient. One day maps will instantly navigate. It will know our location to the millimeter, but it won't work with us. It doesn't have a brain of its own.
So what would be an example of Maps working with us? How could an intelligence help the application interface with our mind in such a way that it actually begins to increase our ability to think and operate in this world. Let's take a walk across a city at night.
You've been out with your buddies and now it is the time of the night where diets don't matter and fried chicken is the highest culinary height man has ever aspired to. So you reach for your phone. You get the application that replaced the yellow pages out and find that there's a chicken place not six blocks away. You input that information into your maps application and it happily gives you information. You begin to walk.
It's not two blocks before you notice what is definitely an unsanitary section of a drug habit in the gutter. This is not the place to be. This is not the path to take. If you knew the city well this would not be an issue. You'd know how to get around. However you don't. So what do you do? Well you point the little blue dot on the screen a different way and get walking. Eventually the application gets upset with you and plans another path.
It's a matter of understanding the world in the same way you do. If maps had some intelligence you could tell it, hey maps, this path looks scary. Maps, this path looks confusing, I don't think it will work. Maps, I'm drunk and this is an unreasonable amount of stairs. It could begin to take and extend the thinking a person has to do about a situation. Maps, "I'd like a hotel and I want to pay eight dollars for a meal along the way".
In other words our applications have begun to take control of sections of our intelligence without matching the shape of it at all. It's up to us to hammer the square peg in the round hole and it's frustrating. It's inefficient.
Have You Really Thought About the Enterprise?
The first example is one thing, but imagine that hundreds of people are saying, "Maps, this is an unreasonable amount of stairs." If maps can think for itself, if it can begin to understand the world it is seeing, then it can make decisions, it can tell you things. "Hey, most people avoid this route between 9:00 and 12:00 at night."
Now some of you are likely rising up and claiming that maps already does a lot of this. That it's exactly what people have been working towards, but it's not. It doesn't fit the shape of our minds. It gives us information but it doesn't do any of the work for us. For some, this sounds right, I don't want a machine thinking for me. I want my brain to do all the work, but then I urge you to think of Star Trek.
In my mind there's two ways to look at the Starship Enterprise. Is it a crew of humans exploring the universe who just happen to have a superintelligence along for the ride, or is it a superintelligence that's exploring the universe in a symbiotic relationship with a bunch of humans? There are many instances when it's shown that the computer on the ship is so powerful it can simulate, and may even be a sentient being. So why would it keep people around? Likewise, the ship is known to be piloted by the most talented and trained beings Starfleet could find, why would they need their own onboard super intelligence? Because it extends the ability of each.
In the movie Iron Man we don't complain when Tony Stark tells Jarvis to run a simulation or to send the design to the manufacturing robots. However, if people were to try to turn Tony's iron suit into a manufacturable design in a matter of hours it would be impossible. It would take thousands of man hours over years. The future, is terrifyingly, going to involve handing over sections of our minds to robots we've built. It's going to leave us vulnerable to those robots being taken away.
We Must Deal with Too Much Information
Take medical data for example. There are so many variations on single diseases. On top of that there's research into each facet of those diseases. However, there's more information than a single mind could categorize and process. IBM's Watson project has been soaking in the dollars trying to promise just this. A Star-Trek-like super intelligence that can process millions of man hours of refined knowledge and assist a human in the decision making process.
If you went to the doctor were told that based on your genetic make-up, weight, diet, and fifty years of unrelenting medical research we can say with 90% confidence that exactly 51mg of chemical X will cure what ails you. Then you'd thank them, even if a miracle of precision like that required someone giving up a portion of their mind to a machine.
It's terrifying. The first applications that start to augment human ability with actual intelligence. Tools that understand the way we see the world instead of just improving the tools we designed out of crude things will have grand impacts.
Waze, let people tell maps what was happening in the world around them. It let them say "hey this road is slow", and "I saw a cop". Shaper Origin adds its own intelligence to the movement of the human body. Tesla Motor's Autopilot, when used properly, removes some of the tasks of driving, allowing the human to remain more alert and hopefully less fatigued.
These are examples of humanity beginning to understand the next step. Shaping our tools to our minds instead of our hands. It's scary, but likely to be such a brute evolutionary advantage for those willing to take the risk that it will never be a decision at all. The question is instead, who gets to build it first? Will they build it well and responsibly? That's where Hackers come in.
[image shown on smartphone is HAL 9000 by javierocasio]