[Mathieu] wrote in with his laser target practice game. It's not the most amazing hack in the history of hackery, but it's an excellent example of the type of simple and fun things you can do with just a little bit of microcontrollering.
F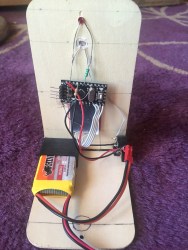 irst off, the gun is a broken toy gun that used to shoot something other than red collimated light beams. The Arduino knockoff inside reacts to a trigger pull and fires the laser for around 200 milliseconds. The gun also has a "gas gauge" that fills up with repeated shots and cools down over time. And therein lies the game — a simple race to ten, where each player only has a fixed number of shots over time.
The targets are simply a light sensor, scorekeeping LED display, and a buzzer that builds tension by beeping at you as the countdown timer ticks down. The bodies are made out of 3D-printed corners that connect some of [Mathieu]'s excess wooden goat-cheese lids.
All the code is up on GitHub so you can make your own with stuff that you've got lying around the house. The "gun" can be anything that you can embed a laser in that makes it aimable. Good clean fun!