In the late 1940s and early 1950s, Europe was still struggling to recover from the crippling after-effects of war. In Britain it is referred to as the "austerity period", with food still rationed and in which "make do and mend" was very much the order of the day. The consumer boom of the late 1950s and 1960s was very far in the future, and if you were a hardware hacker your source materials were limited to whatever you could find from war surplus or whatever prewar junk might come your way. This was a time in which the majority of adults had recently returned from war service, during which they had acquired practical skills through the necessities of battle that they sought an outlet for in peacetime.
One field that benefited from this unexpected flowering of creativity was that of motor racing. Before the war it had been an exclusive pursuit, with bespoke cars at famous circuits like the banked track at Brooklands, in Surrey. In a reflection of the wider social changes that followed the war the motor racers of the post-war years came from humbler backgrounds, they raced homemade specials made from tired-out prewar motors on wartime airfield perimeter tracks like the one at Silverstone which still hosts Formula One racing today.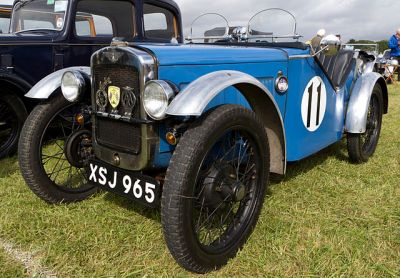 My father raced an Austin-7-derived special during this period. Too young to have been a combatant, in the early 1950s he was an engineering apprentice at a large truck manufacturer. He relates tales of home-made gasflowed manifolds for the sidevalve 750cc Austin engine, and of wild and crazy cam profiles built up with weld, then ground down and hardened. Prewar Austins were plentiful and cheap, so many such vehicles were created.
Cars like the Austin 7 proved to be less than suitable as high-speed racers though: the original A-shaped chassis and suspension had been designed for the roads and speeds of the 1920s. The community of special car builders responded to this with their own chassis designs, and from their ranks came both the roots of today's Formula One and British motor racing industry, and the modern kit car industry.
One name from that period which embodies both Formula One and kit cars is Lotus. Its founder, [Colin Chapman], produced a succession of racing specials from the late 1940s through to the early 1950s, and the company eventually became a manufacturer of production sports cars which were also sold as kits. Today, Lotus is a 21st-century manufacturer based in Norfolk and making cars at the forefront of technology, but back then they were something of a shoestring operation in a North London workshop. My father accompanied a friend to pick up his newly purchased Lotus Mk VI, and remembers seeing [Chapman] spreadeagled over the bonnet of a prototype Mk VIII covered in little bits of wool, being driven up and down the road so he could observe the turbulence over its bodywork.
The signature Lotus of this period is the Lotus 7. The running gear of a 1950s Ford Popular with its 1.1 litre sidevalve engine, placed in a minimalist two-seater, open-top space-frame chassis, with double-wishbone front suspension and a live rear axle. It was sold either pre-assembled or as a kit to avoid the purchase tax that was then applied to assembled cars, and it achieved significant success. Lotus continued making it in various versions with ever larger engines alongside their more modern cars until the 1970s, and when they ceased production the rights to its manufacture were bought by the Lotus dealer Caterham Cars. Caterham have built a very succesful business from their Sevens, and you can still buy one with very up-to-date running gear and suspension in a variety of models either pre-built or as a kit from them today.
Enough With The History, Take Me To The Cars!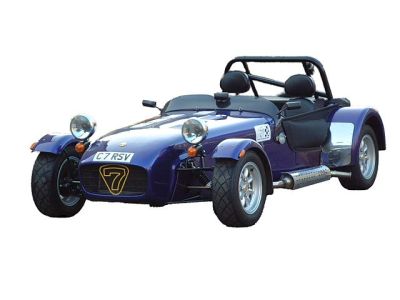 This history lesson is all very well, you might say, but what claim does a single small-production-run sports car have to being the most hackable car? After all, cars like the Volkswagen Beetle were made in the many millions, and we've already made the case for that model being the most hackable car. The answer comes not from the "official" Lotus and Caterham Sevens, despite their being as hackable as any other example, but from the many cars that were either inspired by the original design or are outright copies of it.
Since the 1970s an astonishing variety of manufacturers have produced unauthorised cars based on the Lotus Seven design, and in many cases their products are nearly indistinguishable from the real thing. However that alone is not yet enough to qualify these cars as the most hackable, for that we must look at the final source of their manufacture. This is a car simple enough that almost anyone able to weld and find the required donor parts can build one for themselves, and that is just what many enthusiasts have done over the last few decades. Helped along by the popularity of a Haynes manual describing the design of a Seven clone in huge detail, a cottage industry of suppliers has appeared, providing almost any of the required parts from the chassis downwards. The plans are readily available online to anyone prepared to search for them, and can be easily modified to an individual builder's plan. So-called "Locosts" have appeared with an astonishing variety of engines and running gear, everything from small car engines to V8s and superbike units and many more. Among my friends I can number owners of Locosts with Ford, SEAT, and Honda units, for example. They are a very common sight on summer weekends, at least from where this in being written, less than a Seven's tank range from Silverstone.
Just What Makes It So Hackable?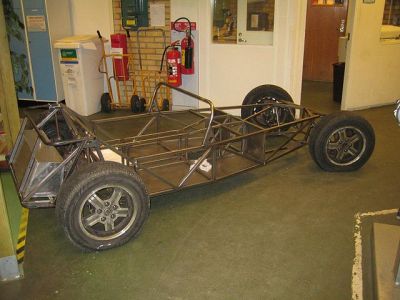 It's worth a look at the car in a little more detail, to find out what makes it such a good platform, and for that it's best to start with a reminder that this is a sports car stripped to such bare essentials that few other vehicles with steel frames weigh less. This means that as a driving machine, it can extract the most from the smallest of engines. A personal view is that it is best in its purest form: an engine whose power you have to work to release, mated with skinny tyres. And indeed Caterham's current base model follows this formula with a little 3-cylinder Suzuki unit.
The chassis itself as described in the Haynes manual and other sources is a space frame welded from box section with a central transmission tunnel flanked by the two seats. Various modifications have been made to the basic design, including wider versions for more generously proportioned drivers, stiffer versions with more reinforcement, and rollover bars and cages for the racing versions.
The front suspension is a double wishbone, with verticals sourced from any of a number of possible donor cars and the wishbones themselves fabricated by the builder. There is considerable scope for a builder creating their own suspension geometry here, though personal observation of Locosts built by friends tells me that getting it right can be a lengthy process.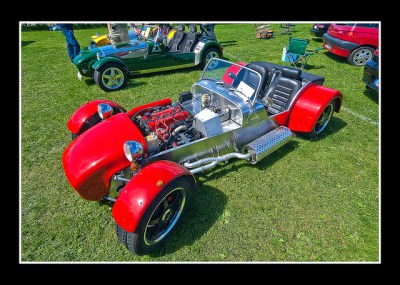 We've mentioned the breadth of engine choices already, but the transmission can come from almost any smaller inline-engine rear-wheel-drive donor vehicle. The archetype is the Ford Escort Mk1 and 2, however coincident with the popularity of Locosts, the supply of these cars dried up very quickly. More recent donors have been Mazda MX5s, or any of several small commercial vehicles.
At the rear, the original cars sported a live axle. Yet again the Escort units used to be a favourite but supplies have dried up, so alternatives have had to be found. Many designs have for example used independent suspension derived from Ford Sierra or Mazda MX5 parts.
So… When Are You Building Yours?
As you can see this is not only a design that facilitates modification to an individual builder's specification, it is also one that is undergoing a process of continual development. It is still possible to make a car that resembles [Chapman]'s original, but the builder is not restricted to that choice. One thing is certain, [Chapman] himself would have definitely moved the design on over the decades.
If you are nominating the most hackable car, it does not have to be one that achieved a high production run, or even one that has the best overall design. Nobody is claiming that the Seven is the best car ever designed. Instead a car in which every aspect of its build can be modified at the maker's discretion takes car hacking to entirely new heights, and in that the Seven delivers in spades. There is quite simply no other car design quite like it.
So there you have it, the Lotus Seven derivative is the world's most hackable car. My garage is busy enough keeping a 1960 Triumph Herald on the road (incidentally a car whose front suspension carried Lotus to Formula One success), so when are you building yours?
Header image: AxelKing  [CC-BY-SA-3.0], via Wikimedia Commons.