Ignore the article, watch the video at the top of the page. The article is about some idiot, likely not even a hacker, who bought a drone somewhere and nearly rammed it into a plane. He managed this with concentrated idiocy, intention was not involved. While these idiots are working hard to get our cool toys taken away, researchers elsewhere are answering the question of exactly how much threat a drone poses to an airplane.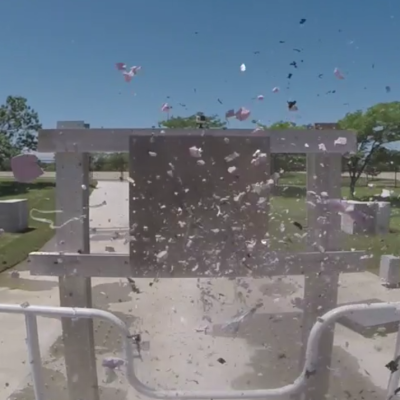 Airplanes are apparently armored to withstand a strike from an 8lb bird. However, even if in a similar weight class, a drone is not constructed of the same stuff. To understand if this mattered, step one was to exactly model a DJI Phantom and then digitally launch it at various sections of a very expensive airplane.
The next step, apparently, was to put a drone into an air cannon and launch it at an aluminum sheet. The drone explodes quite dramatically. Some people have the best jobs.
The study is still ongoing, but from the little clips seen; the drone loses. Along with the rest of us.
Perhaps the larger problem to think about right now is how to establish if a "drone" has actually been involved in an incident with a passenger aircraft. It seems there are a lot of instances where that claim is dubious.