Biochemistry texts are loaded with images of the proteins, nucleic acids, and other biopolymers that make up life. Depictions of the 3D structure of macromolecules based on crystallography and models of their most favorable thermodynamic conformations are important tools. And some are just plain beautiful, which is why artist [Mike Tyka] has taken to using lost-PLA casting to create sculptures of macromolecules from bronze, copper, and glass.
We normally don't cover strictly artistic projects here at Hackaday, although we do make exceptions, such as when the art makes a commentary on technology's place in society. In [Mike]'s case, not only is his art beautiful and dripping with nerd street cred, but his techniques can be translated to other less artsy projects.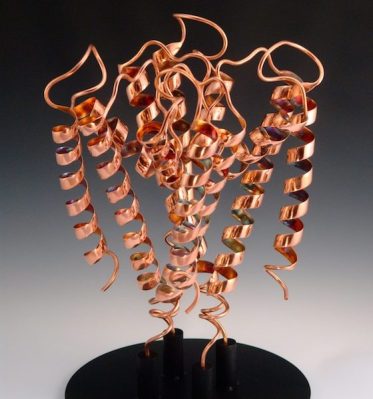 For "Tears", his sculpture of the enzyme lysozyme shown in the banner image, [Mike] started with crystallographic data that pinpoints every peptide residue in the protein. A model is created for the 3D printer, with careful attention paid to how the finished print can be split apart to allow casting. Clear PLA filament is used for the positive because it burns out of the mold better than colored plastic. The prints are solvent smoothed, sprues and air vents added, and the positive is coated with a plaster mix appropriate for the sculpture medium before the plastic is melted out and the mold is ready for casting.
[Mike]'s sculpture page is well worth a look even if you have no interest in macromolecules or casting techniques. And if you ever think you'll want to start lost-PLA casting, be sure to look over his build logs for plenty of tips and tricks. "Tears" is executed in bronze and glass, and [Mike]'s description is full of advice on how to handle casting such vastly different media.
Thanks to [Dave Z.] for the tip.