Oh Nexus 5X, how could you? I found my beloved device was holding my files hostage having succumbed to the dreaded bootloop. But hey, we're hackers, right? I've got this.
It was a long, quiet Friday afternoon when I noticed my Nexus 5X was asking to install yet another update. Usually I leave these things for a few days before eventually giving in, but at some point I must have accidentally clicked to accept the update. Later that day I found my phone mid-way through the update and figured I'd just wait it out. No dice — an hour later, my phone was off. Powering up led to it repeatedly falling back to the "Google" screen; the dreaded bootloop.
Stages of Grief
I kept my phone on me for the rest of the night's jubilant activities, playing with it from time to time, but alas, nothing would make it budge. The problem was, my Nexus still had a full day's video shoot locked away on its internal flash that I needed rather badly. I had to fix the phone, at least long enough to recover my files. This is the story of my attempt to debrick my Nexus 5X.
I hit the Internet for research. It became apparent that the Nexus bootloop was a common problem, and not just for the 5X. Other models had suffered similar issues which made searching for relevant information difficult. Just about everybody out there was saying it had happened to them just after an update. A lucky few had success by reflashing an OS image to their phone. Others made warranty claims to the manufacturer and received back refurbished units. But I needed my files and warranties weren't an option anyway, due to buying the phone in Hong Kong and living in Australia.
After trying in vain to get the phone to boot even into recovery mode, I read whisperings on forums that leaving the phone in the freezer could help. By this point, my phone was completely unresponsive — a total brick. It wouldn't even show signs of life plugged into the charger; nary a battery filling animation, nor a blinking LED. The freezer sounded only slightly ridiculous, so, being otherwise out of ideas, I gave it a shot. Imagine my elation when it started to boot up! I made it all the way to the home screen before it came to a dead stop, and returned to its looping ways.
The almost-success of the freezer fix gave me a glimmer of hope. It seemed to suggest that the issue wasn't just one of software, but had a hardware component that could be manipulated thermally. I redoubled my efforts, coming across a video that appeared to solve the problem. [Tony Rednik] used a heat gun on the motherboard, before reassembling. This allowed the phone to boot and [Tony] reported using the phone for several months afterwards.
It's Getting Hot in Here, So Take Out All the Screws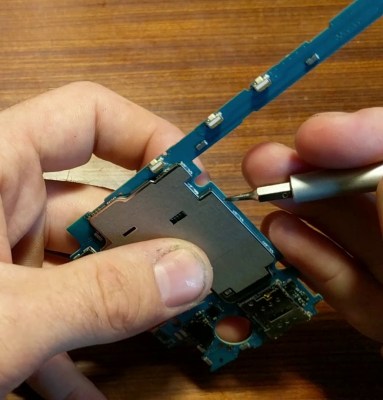 After a stop by iFixit to check out their Nexus 5X teardown, I felt confident I could disassemble the phone without breaking it. The Nexus really is well designed, using only Phillips head screws of what appear to be equal length all around (are you listening Apple?), with a modular design that makes most repairs quite easy. The only thing the guide didn't cover was the removal of the metal shields over the main ICs. These popped right off with the gentle application of a flathead screwdriver.
Matching my timing to the video I'd seen, I gave the board a 30 second dose from my hairdryer on its hottest setting. I put it all back together and took a deep breath. Lo and behold, it booted! I was ready and waiting to snap into action, plugging the phone straight into my laptop to dump my vital data. With the video recovered, the phone then crashed after approximately 20 minutes of use.
With my primary objective completed, there was little left to lose. I decided I'd try to get the phone running properly. If I could get it operational, it'd be useful to have a spare phone around – I'd already upgraded to a Google Pixel at the first sign of trouble. It's tough to be without a phone these days.
Let's Try a Reflash
I gave the board a heavier serving this time: a full 3 minutes of hot air. Alas, no, the phone wouldn't boot! My next step was to at least see if we could get into recovery mode. After reciting the sacred incanation of holding POWER and Volume Down at the same time, selecting Recovery Mode, then holding POWER while tapping Volume Up, I finally had a recovery menu, and some real options. Online wisdom said to format the cache partition, before flashing a fresh ROM using ADB (Android Debug Bridge) over USB. Easy enough, right?
Well, no. Historically, the Android Debug Bridge set of tools has been painful and difficult to install. Recent times have given us the 15 Second Installer, and I was excited — until this too failed to work. Half an hour of banging my head against the wall and I then realized the automated script was confused because, through a hamfisted backup attempt, my Desktop folder is on the E: drive. With that sorted, I was in.
With the phone ready and waiting, I fired up the command line and started the flashing process. It started at a glacial pace… 1%…2, 3… but the phone was responding in kind. It was not, however, to be. At 5% the computer reported that the connection was lost and the handset was frozen solid. This was pretty much the worst possible result — the last thing that you want to happen during an update or flashing process is for the device to crash or lose power. It literally doesn't get worse than that.
At this point, I was tired of the whole business. I tried a few more cycles of heat and freezing, but could by this point not even reach recovery mode, let alone start to flash the device or run the phone's own factory reset process. It was a disappointing end, for sure.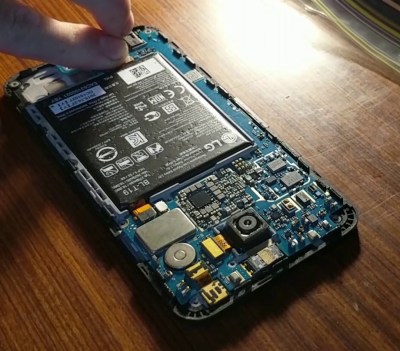 I resigned myself to editing the video of the repair and leaving it at that. But it left me scratching my head – what was the true cause of the problem? The YouTube comments turned up this gem:
The LG G4, V10, and the Nexus 5X are all affected by the bonded flipchip substrate breaking off of the BGA package under the CPU, which usually manifests in bootlooping or screen corruption, and eventually a complete brick. It's not solder related; the only way to fix it is by completely replacing the CPU package with one that isn't defective. – FrankTheCat
It turns out there's a class action lawsuit against LG from G4 & V10 owners that have run into this problem. For those following along at home, LG is also the manufacturer of the Nexus 5X, despite its Google branding. Huawei handled the Nexus 6P, however that apparently has a bootloop problem as well.
This leads me to my current conclusion. The fact that the phone does respond to cooling and heating, combined with a lawsuit covering this issue with similar phones, suggests that the problem is indeed related to hardware. I think it's possible that the community's belief that the problem is related to software updates is due to their frequency. With Google releasing an update every few weeks or so, it's likely that at the time your phone does fail, it will be close enough to a recent update that a human looking for patterns will identify the update itself as the cause of the problem. Can I prove this? Not really, no – but I'd love to hear your opinions and experiences. Is this solely a hardware problem, with the stress of installing an upgrade package (which usually includes reoptimization of all installed apps) pushing the failure past the red line?