[James Bruton] built an electric skateboard out of oversized LEGO bricks he printed himself, and equipped the board with an excellent re-creation of a classic motor.
He began by downloading brick, gear, and pulley designs from Thingiverse and printing them up five times their normal size, taking 600 hours. The deck consists of 8M Technic bricks lengthwise and 4M bricks crosswise, with plates covering top. There's even a monster 5×6 plate that's clearly courtesy of a parametric brick design because you won't find that configuration among LEGO's official parts.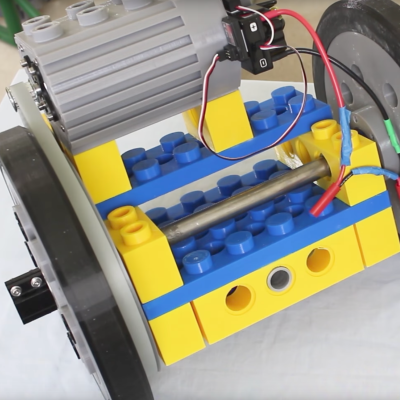 The coolest part of the project is probably [James]' re-creation of an old school LEGO motor. He sized up a 6216M Technic motor originally rated for 4.5V swapping in a 1.5 kW, 24V motor controlled by a 120A ESC and powered pair of Turnigy 5000mAh LiPos wired in series.
[James] had to design his own casing in Blender because couldn't find a file for the original LEGO part—pro tip for the future, LDraw has the 6216 design and it can be dropped into Blender.
Another nice touch are the wheels, with hubs based off upsized 40-tooth Technic gears with Ninjaflex tires that weigh half-a-kilo each and took 32 hours apiece to print.
We've published a lot of [James] ' work, including his BB-8 model and some of his other Star Wars models.