Plywood laser-cuts fairly well but has drawbacks when used in serious production runs, as [Marie] explains in a blog post about a quest for the ultimate laser-cutting plywood. One of the things [Nervous System] makes and sells is generative jigsaw puzzles, and they shared their experience with the challenges in producing them. The biggest issue was the wood itself. They ended up getting a custom plywood made to fit their exact needs, a process that turned out neither as complex nor as unusual as it may sound.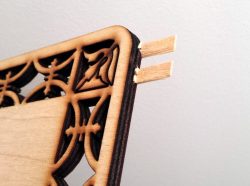 Plywood is great because it's readily available, but there are some drawbacks that cause problems when trying to do serious production of laser-cut plywood pieces. Laser cutting works best when the material being cut is consistent, but there can be areas of inconsistent density in plywood. If the laser encounters an unexpected knot somewhere in the wood, there is no way to slow down or to increase power to compensate. The result is a small area where the laser perhaps doesn't quite make it through. A picture of an example from my workshop shows what this looks like.
When doing basic project work or prototyping, this kind of issue is inconvenient but usually some trimming and sanding will sort things out. When doing a production run for puzzles like [Nervous System] was doing, the issue is more serious:
A jigsaw puzzle with a large number of cuts in a relatively small area has a higher chance of running into any problem spots in the material. If they exist, the laser will probably encounter them.
Trouble spots in plywood can be on the inside layers, meaning they can't be detected visually and are only discovered after they cause an incomplete cut.
Increasing laser power for the whole job is an incomplete solution, as excessive laser power tends to make the cuts uglier due to increased scorching and charring.
An inspection process becomes needed to check each puzzle piece for problems, which adds time and effort.
A puzzle that had even one piece that did not cut properly will probably be scrapped because rework is not practical. That material (and any time and money that went into getting the nice artwork onto it) becomes waste.
Plywood is great stuff and can look gorgeous, but [Marie] says they struggled with its issues for a long time and eventually realized they had gone as far as they could with off-the-shelf plywoods, even specialty ones. They knew exactly what they needed, and it was time for something custom-made to serve those specific needs.
Having your own plywood custom-made may sound a little extreme, but [Marie] assures us it's not particularly difficult or unreasonable. They contacted a small manufacturer who specialized in custom aircraft plywoods and was able to provide their laser-cut plywood holy grail: a 3-ply sheet, with high quality basswood core with birch veneers, and a melamine-based glue. It cuts better than anything else they have used, and [Marie] says that after four years they had certainly tried just about everything.