A weekend away camping in the wilds can do wonders for one's sanity, and the joy of spending it in a recently converted camping vehicle adds to the delight. In a twist on the conventional camper, redditor [Gongfucius] and his wife have converted their 2005 Toyota Corolla into the perfect getaway vehicle for two.
To make enough room, the rear seating had to go, and removing it was deceptively easy. [Gongfucius] was able to build and fit a platform peppered with storage hatches that could snap into place and cover the trunk and backseat — covering it with felt for added comfort. A mattress was cut to size out of five inch memory foam and his wife sewed fitted coverings to them. More storage nooks in the trunk keep necessities at hand.
As a vehicle you'd never expect to be camping in, [Gongfucius] maintains that the sleeping arrangements in this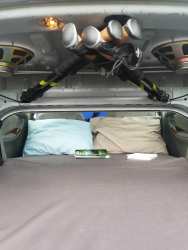 Corolla aren't as crowded as you might think, but are downright luxurious when solo. In either case, the one downside might be that it takes a certain amount of flexibility to get in and out comfortably. Since they tend to camp far off the beaten path, privacy screens have been passed over — but were they to be needed, some double-reflective insulation would do the trick. There is also a slight issue of CO2 buildup, but keeping the window down a crack solves that.
There are — of course — more traditional vehicles to camp in, with more than meets the eye.
[Via /r/DIY]